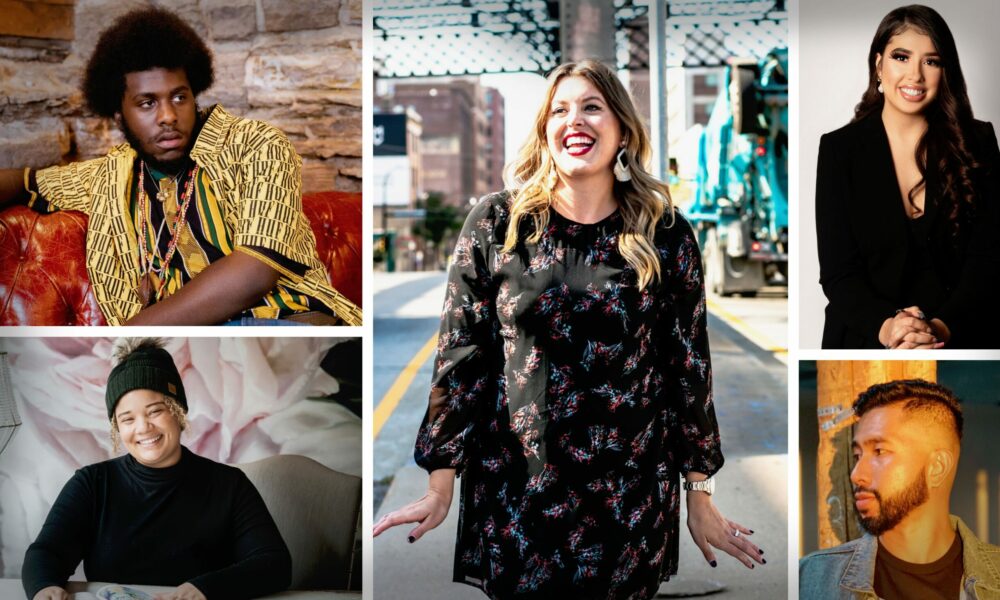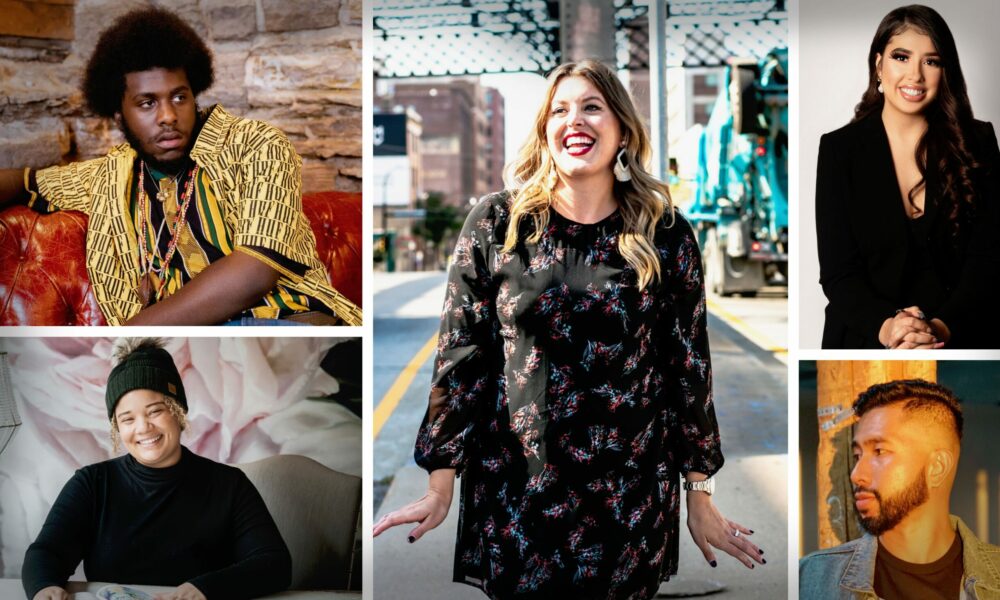 Every day we have a choice. We can support an up and coming podcaster, try a new family-run restaurant, join a boutique gym started by a local fitness champ or we could keep giving away our money to the handful of giants who already control so much of our commerce. Our daily decisions impact the kind world we live in; if we want a world where small businesses are growing and artists and creatives are thriving then we should support them with our time, money and attention. We're proud to highlight inspiring creatives and entrepreneurs each week in Hidden Gems series.  Check out some of our latest local gem features below.
Mitch Bermel

As a nature enthusiast, I long had an idea for an environmentally-friendly clothing brand. However, nothing took shape until 2019 when I collaborated with my friend and business partner, Vincent, to create Hawthorn Clothing. Vincent wanted to launch a clothing brand around sustainability and environmental awareness because the textile industry is one of the major contributors of waste and pollution. Also, fast-fashion is especially harmful as it involves discarding mass-produced clothing as seasons and trends pass. We decided to launch the brand together, featuring the work of local artists as well as focusing on classic looks and essentials that will last the test of time. The Twin Cities has such a rich art scene, and we want to support our local artists by showcasing their talent on apparel. In particular, the Northeast Minneapolis Arts District has been a big source of inspiration for us in creating the brand. Read more>>
Cindy Ravn

In my 20's, I worked in the retail beauty industry for an up and coming (at the time) line out of France, called Clarins. The educator's name was Ronelle Ashby and she unlocked this amazing thirst for knowledge and I haven't stopped learning since. Since then, I earned a degree in Liberal Studies, an education and or certificate in Make-Up Artistry, HydraFacial, dermalplaning, facial massage, LED light therapy, chemical peels, microchanneling, nano needling, acne, lash lifting, Qi Beauty, Gua Sha, Yoga, Holistic Health, Food Science, Feng Shui, and many more, as well as my Advanced Practice Estheticians License and am a member of ASCP (Association of Skincare Professionals) and the prestigious NCEA (National Coalition of Estheticians Association). I am a healthy aging specialist and I help (mostly) women own their age, whatever it is. I have been on a mission for about 8 years (since an adverse reaction to Botox) to stop using the term "anti-aging" and to find companies that are in line with my values that aging is a gift and if you are not aging you are, in fact, dead….not what we are going for at Cindy Ravn Skin and Health. Read more>>
Beau Kue

I've been detailing for about 10 years now. At first, it wasn't my profession. I wanted to be a Mechanic as I went to school for it. I started out as a Lube Technician and worked my way up to Assistant Manager at a Lube Shop before I moved on to a dealership as a Service Runner for a few years so that I could work my way up to a Mechanic position. Things didn't plan out as I wanted and I had a car accident that led me to change profession due to not being able to do any heavy lifting for a while. I continued to work at some dealerships in an office setting but also tried my hand at detailing while I was assisting the service department. I got a chance to work with a body shop and I learned how to really hone my detailing skills. I continued to pursue detailing at several shops and that is where I learned how to vinyl wrap and get into clear bra installation. Over the years I developed my skills and learned a great deal of information about detailing and made many friends and mentors throughout the detailing industry. Read more>>
Autumn Wallace

I've been bartending for a few years now. However, when COVID hit I found myself laid off and with a lot of time on my hands. I've always had a passion for food and flavors. Being creative is something that I really enjoy and it just transfers really well into mixology. I get to create new unique flavor combinations and make those new cocktails beautiful. During my time without a job, I really started to play around more with creating new and interesting drinks. One of my friends asked me to do a Zoom cocktail class. People just tipped me for my time and I enjoyed teaching people how to create my drinks at home. From there I had other people ask me to do classes for their friends at it kind of just blossomed from there. I created a small business of mixology classes; private and public sign-ups. Read more>>
Marah Harings

I taught myself to sew when I was eleven, but I've felt driven to create for as long as I remember. As an artist herself, my mom made crafts a priority for my sister and me. I always felt encouraged to create. In fact, a sewing machine was my high school graduation gift! I lost touch with my artistic drive as an adult, feeling often like I had to "make time" to be creative. That is, until 2020 upended all our lives, along with my sense of self and purpose. My partner, Tyler, and I met at the beginning of 2020, just before the Minnesota lockdowns. We quickly realized we both feel most vibrant and alive when we allow time for creative exploration. Tyler is a woodworker and the sole operator behind Three Circle Shop, creating sculptural end grain butcher blocks that weigh more than both of us and our three dogs, combined! The time we've spent discussing ideas has led us through a porthole of obligations and responsibility, to a mission that he likes to call "living artfully." I can no longer imagine having a job I dread going to, clocking in and out each day just to financially survive. Read more>>
Jerrald Spencer

I always knew I wanted to do something art-related. I grew up in St. Louis, Missouri. When I was in 2nd grade, I took that "what will your job be?" survey, and the result was advertising and marketing expert. So that night, I looked in the phone book (I'm kinda old) and looked up a marketing firm, called them, and asked for a job. They were really nice and told me they would save me a seat for when I grew up. A year after I graduated, I went to St. Louis Community College for Graphic Arts. I wasn't really ready yet and was more concerned with recreating myself socially so I didn't do well in non-art/design classes. I dropped out and focused on working a job just to help provide for my household. I moved to Minnesota in 2009 and through my girlfriend (now wife) I met Dr. Paul Iaizzo and he offered me my first freelance illustrating gig. And now some of those images ended up published in some college textbooks. That was about 10 years ago and I haven't stopped yet. Read more>>
Sade Young

I grew up in Apple Valley, Minnesota and I thought more about partying than I did about my future. I was more focused on the 'right now' as a teen while everyone else had a five-year plan. That was okay with me though because I was too busy having "fun". I do remember though, my high school teachers being so upset with me because they saw so much potential that I didn't see for myself. I was bright, bubbly and full of life. I was (and still am) a very self-aware person and I knew this, but I didn't know where that would even take me. I was so behind on everything that I graduated high school a little later than my peers, but I graduated. While everyone was at college, I worked part-time jobs, lived at home and I put a lot of focus on a guy and less on myself. That ended dramatically (thank GOD) and I finally started thinking about what I wanted, but I figured I should play the career field first. I figured if I work in entry-level positions, I'll learn more about the industries. Read more>>
Indigo Rankin

I grew up in Minneapolis attended school in the Robbinsdale school district. My mother is Caribbean and ran her household as such, being afforded the opportunity to have a perspective of the two very different worlds of Caribbean vs Minnesota has shaped my story and created the Indigo Siren Movement. I have always been a very introspective child I loved to observe, reflect, and learn about my environment. I have been interested in the cultures of the world and the effects we all have on each other as a community. I also can add that as a black girl growing up in Minnesota I didn't always feel like I could be myself. As I grew and traveled I realized that it can be healing in Identifying yourself by living a mindful, and conscious life. I feel that another part of my story is to give back to my community by uplifting them in ways to promote healing and consciousness. Based on my experience art, music, and entertainment tend to be creative outputs that promote healthy healing. Knowing this gives me the motivation to promote this through my business. With hopes to spread this idea throughout the world and create healthy shifts. Read more>>
Asad Abbas

I will show you how I got started in the freelance community, provide you with some excellent learning opportunities, all of which I use on a regular basis, and inform you on how you can launch your own graphic design career as a freelancer! So, what exactly is a graphic designer?
The role of the graphic designer is to creatively convey the desired message of the project at hand to a specific audience. Designers do this by arranging form, icons, colour, and imagery to produce a brand "feel" related to the company in which they are collaborating on the project. Graphic designers also focus on digital corporate branding campaigns such as logo templates, business cards, brochures, posters, directories, print ads, postcards, organisation letterhead & envelopes, booklets, catalogues, product design, greeting cards and invites, social networking sites such as Facebook, Twitter, and Google+, as well as online advertisements and web graphic elements. Designers may also use Adobe Muse to build clear, elegant websites for their customers, as well as customise WordPress website templates. Read more>>
Pete Scholl

Cold Nation Outdoors is a Minnesota company that created the Ice Defense system. Created and owned by Blair Jensen and brought to life with help from his father Art, the Ice Defense has become the trusted way to melt ice, snow and slush in your ice holes and keep ice holes open down to -30F. In our fourth season, we continue to spread the word on the effectiveness of the Ice Defense, providing excellent US made product and quality customer service. You can see our products in action on @jasonmitchelloutdoors and @outdoorboundtv tv shows and on thousands of flashers out on the ice as well as our social media accounts and can be purchased at many outdoor retailers as well as our website www.coldnationoutdoors.com Read more>>
Megan Reese Baxendale

Believe it or not, I never thought I would be a hairstylist! I didn't grow up playing with hair. At a young age, I really wanted to be a teacher and as I got older my favorite show was What Not To Wear. I loved Stacy London and Nick Arrojo! She was the fashion stylist/consultant and he was the makeover hairstylist. I decided I would go to college to become a fashion designer but turns out sitting in an auditorium was not for me. My sister told me about Josef's School of Hair Design in Fargo, ND and thought that was something I would enjoy because it's in the fashion realm. When I started school my instructor asked why I was there and I told him I wanted to be the Stacy London+Nick Arrojo of hair. I LOVED clothes, fashion, makeup, beauty and quickly learned I loved makeovers and educating people how to recreate their hairstyle. A year after school I moved to Dallas, Texas and worked for TONI&GUY for 5 years. As soon as I could I took their Educator course and was able to teach Model Nights, helping apprentices develop and grow their craft in their first year at the salon. Read more>>
Csilla Grauzer

For me, cooking and baking are artistic expressions that combine everything in my life, a means of bringing family and friends together, a window into other cultures, and a tool for understanding local traditions and the land upon which such cultures are built. I immigrated to the US as a political refugee in 1983. My family was ethnic Hungarian, living in Transylvania, Romania under a brutal communist dictatorship. The Romanian government regarded my father as a subversive, our whole family as enemies of the regime, just because we were Hungarians. It was a very difficult time in Eastern Europe in the 1960s thru the 1980s. Communism with its evil ways, was in full force and it was very hard on young people and students. Even speaking Hungarian with my friends at school was prohibited. The teachers would make fun of us because my two older brothers and I had true Hungarian names: Zoltan, Attila and Csilla. Read more>>
Derick Cich

Growing up, I have always been naturally artistically inclined. After taking every single art class available through high school I attended trade school for Esthiology, graduating top of my class. Combining my love of creativity and skincare I began my freelance career as a makeup artist, reaching out to everyone and anyone to collaborate with. After years of networking and word of mouth, my reputation naturally grew and the clientele followed. Makeup has taken me all over the world, including New York Fashion Week, a launch in Tokyo, and destination weddings in the Keys. Read more>>
Laura Merino Franco

Laura Merino-Franco remembers the first time she saw snow. She was 18 years old and had just flown to Minneapolis from South America. "It was March, and it was very late at night so I had to wait until the next morning. I ran outside and there was this little patch, all dirty and icy, but I was so excited!" It took another five years before Merino-Franco got used to winter in her new home in the Twin Cities. But along with the frigid temperatures came abundant access to the great outdoors. It was a vast change from the concrete-walled city life of her native Cali, Colombia. "I grew up with no parks, no lakes," she said. "Here, outside, it's gorgeous." Her love for nature and her creative spirit led her to founding Primitiva Jewelry. Born and raised in Colombia, Laura grew up watching artisans work with the ancient art of filigree and knew in her heart that one day she would share this beauty with the world. Read more>>
Cana Potter

My mom introduced me to flowers. She was a florist in college, and even though she claims (still) that she "doesn't have a creative bone in her body," she would decorate cakes and make bridal bouquets for couples in our church. We would tip up pages of Smith & Hawken catalogs, turn over little plots of our townhouse yard to try our hand at gardening, and managed to successfully (somewhat) grow sweet peas, tulips and wildflowers in our little patch. I'm confident I would have found flowers regardless, but now I get to credit my mama for pointing me in the direction of one of the best things I've ever done with my life.
My dad, I think, probably gave me my love of learning, my musical education and my best memories of spending time outdoors. When he died, he gave me a delivery vehicle, and enough money, through the sale of his house, for me to spend a year studying entrepreneurial business and structuring what would become the current subscription model of MuseFlora. He also gave me my brown skin and afro hair.
My first job in floral was at age 18. I moved from Moorhead, Minnesota to Los Angeles to study fashion design, and lived near an open air market with, among other things, a flower shop inside. In my newly minted, wildly free, adult-in-training on my own-ness, I bought flowers so often in the first six weeks out there that the couple who owned the shop offered me a job. Two years later, graduated, totally burned out, and back to Moorhead to figure life out in the meantime. Although I loved (and will always love) the art and self-expression of fashion, the industry felt like the embodiment of consumerism to me, and so began one of the great, "Now whats?" that life presents to all throughout space and time. While I waited to know what to do, I took a job at a grocery store, working in their floral department. With no new direction, met my sister out in San Diego for a change of pace. This was nice. Started out as four of us in a two-bedroom, meaning expenses were minimal, and again, I found myself working at a flower shop.  Read more>>
Reha Habib

I went to Architecture school at the University of Minnesota and studied Architecture for my undergraduate and graduate studies, earning my Masters of Architecture in 2009, I also got a Minor in Business Management from Carlson School of Business. From there I moved to Cairo, Egypt in 2009 and got a job with a design firm leading on architecture and interior design projects. I gained a lot of experience since it was a smaller scaled firm, I lead projects from concept design all the way through site supervision. I left that job in 2015 with the desire to work for myself. I freelanced for about a year, landed a large resort project on the Red Sea and decided to open my own studio. I brought on a business partner, Hossam Shawky to lead the operational side of the business, so that I could focus on the creative stuff. The studio has since grown to a team of six, and today we do work internationally with projects in Egypt, Dubai and the United States. I travel between Cairo in Minneapolis frequently to work on our stateside projects. Read more>>
Dante Davison

My story starts with being a curious young dreamer, I've always had a unique imagination that kept me entertained. Eventually, I started drawing people and places around me. This was the gateway into the arts for me. I incorporated storytelling early into my drawings, creating comics and bios for my characters. I loved stapling pages together to create my own little books. I still have a few till this day. A few years later I noticed my mom's passion for taking photos of her children. She even set up her own little studio at our home. She did it out of love, but I was secretly inspired by her! And so, I received my first Pokemon camera when I was eight years old and cherished taking photos of everything. Family vacations, nature, siblings and so much more. Anything I could shoot I did. These two mediums, drawing and photography, always led back to storytelling. It wasn't just about the image but yet the past present and future of the piece. These pushed me further, I knew with enough practice, one day I could be a filmmaker. All three mediums kept me going throughout high school. Read more>>
Jennifer Brown

I have always been drawn to the modality of healing. But even though I graduated with a degree in Ecology & Field Biology, I still knew I needed to work more closely with helping others in a different way. So I have spent a good portion of time involved in the medical field in various hospitals, in-home health positions and hospice care. As time progressed, I found myself being drawn in to intuitive energy healing and connecting within on a deeper soul level. After much time, soul searching and learning, I decided to learn Reiki and begin to incorporate it into my everyday meditation practice. Reiki is a subtle energy healing technique that is effective in helping to reduce stress & promote relaxation on each level of the mind, body, spirit and emotions. After becoming a Reiki Practitioner in 2018, I opened my own space where I began to see clients for sessions. Read more>>
Holly Gerken

I started my company in 2018 just a few months after my daughter Gracelyn was born. Becoming a mother deepened my love for my family in a way that I never could have imagined before and shifted the focus of where and how I wanted to spend my time each day. While I was at home taking care of my daughter during the day, I decided that I wanted to begin using my creative interests and passions in a way that would allow me to financially contribute to my family while at the same time being at home to provide an environment of learning and love for my daughter while she was young. I named my business Fabi Loves Gracie after Fabio (nicknamed Fabi) my beloved dog and Gracelyn (nicknamed Gracie) my new daughter. Many of the products that I make fall into a category of being baby, pet, Minnesota, or outdoors related as those are some of my strong passions in life. Read more>>
Augustah Allen

I was sixteen years old working as a cashier at Marshalls, a modeling agent came up to my register and asked me, "Are you interested in modeling?" and the rest was history. I've always wanted to be a high fashion model. ever since I was eight years old. I would ask my mother to take pictures of me in outfits that I would put together- I look back at those photos with the biggest smile today. I've been to all types of scouting events like Pro Scout and John Robert Powers. However, they all asked for money and my parents weren't able to afford it. I felt discouraged and it seemed like the career I wanted for myself was out of reach. Despite this, I still continued to practice my runway walk, poses in front of the mirror and aggressively watched America's Next Top Mode. The day that I was discovered I knew it was fate. With all the experience I've gained being represented in Minnesota by a modeling agency, after high school, I decided that I wanted to get a Bachelor's degree before I made modeling my full-time commitment. I studied Communication and Business at the College Of Saint Benedict. After college, I went off to work as a full-time modeling in NYC, Mexico and Milan. Read more>>
Samarah Ballard

I started a small online business specializing in hand made press-on nails in April of 2020 after having my nail technician license for four months. I made the decision to only sell hand made press-ons during the beginning stages of the pandemic because nail salons around the country were closed during this time. I created an Instagram and posted my work which received over 700 likes in only 24 hours on my "Pink Jelly Flame" nails, a top seller to this day. When I first opened my online store, I received my first order almost instantly and called my biggest supporter, my father, with gratification and excitement. He laughed over the phone and said, "look at the name on the order." As I looked, I realized my first customer was my own father. I went from my first customer being my family member to getting well over 1,000 orders three months later. I quit my job being a pit dealer at a casino working overnight and decided to become my own boss at 21 years old. I'm very grateful that I grew up in the digital age of social media because it constitutes for much of my success.  Read more>>
Marianne Benzen

My business has been the best journey! I started in 2012, I had 2 young kids at home and I didn't want to leave them. I didn't want to miss a second of their lives, so starting a business felt natural for my family. My husband worked a lot and I wanted to be that constant for my family. After 2 years of selling my mom's hand drawn designs, I made the change to start selling wedding favor tags and my business blew up! From there, I changed my business name..twice, and I have added a Glowforge laser, an Aeon Mira 7 laser and I also have heat presses for shirts and mugs. I finally moved my business out of my home and I now work out of my own creative space in my little MN town…I love going to work, because I created this. My business is a culmination of all my hard work and long hours and I'm so proud of that. Read more>>
allison anne

I'm a multidisciplinary artist & freelance graphic designer in Minneapolis, on unceded Očhéthi Šakówiŋ land. My primary concentration is handcut paper collage, which feels like a blend of so many fascinations going back to childhood. I've always had an interest in the arts, and grew up dabbling in many mediums and projects. There were lots of art history books and creative materials in my childhood home because of my mom; history books and near-weekly museum visits of all kinds with my dad. I loved to read and to look – lots to absorb and learn. I loved drawing, reading and working on little projects. My mom recently gave me a box of paper dolls from my childhood – along with the commercially printed dolls, I found many handmade ones, some drawn, others cut and pasted from magazines, complete with home furnishings. Repurposing things and creating my own worlds always held a thrill for me. Read more>>
Gina Her

I've been taking photos for the past 13 years and here is my back story on how I got started with photography. Growing up as an immigrant shaped me to be who I am today. I was born in a refugee camp in Thailand in 1991 and soon after we fled to the US in 1993. We then made Saint Paul, Minnesota home to us. My parents have always taught me the value of life and to work hard in order to get what I want in life. I've always lived by that rule. My mom had a stroke after giving birth to me and never really recovered since that incident. Although today she has a speech impediment and can't move fast anymore, she motivates me to dream bigger than what I was taught in school. When I look at her smile and hear her laughter at the little things in life, that motivates me to start my own photography business. Capturing people's little and big moments in life is what I live for. I am honored each time someone picks me to photograph their special moments. Read more>>
Kaila Yim

I have been a people person for as long as I can remember. I love meeting new people, listening to their stories, and sharing in daily life together. I grew up in the church and my faith in Jesus has always been really important to me; the person of Christ has transformed my life in such a way that I wanted to point others to Him as well. I began discipling others when I was just a teenager myself, and as I got older I had people in my life point out that what I loved to do was a God-given gift and they were passions I should continue to pursue in some way, shape and form. I also grew up writing. It was how I processed all of my thoughts and talked things through with the Lord. It became something I just did everyday without even thinking about it. If I missed a day of journaling my soul and heart could feel the difference. I began just carving out intentional time to do it everyday and soon enough I had an entire wicker basket FULL of all the journals I had completed from 2008 – present day. Read more>>
Kimberly Kraemer

I'm Kimberly, owner of MN Basket Girl! I'm a Minnesota native-born and raised in a small town south of the Twin Cities and currently living in Tonka Bay with my family. I love the Minnesota seasons and of course all holidays in between! I'm a sucker for cute local products, coffee, the color pink and chocolate! All of my designs have been carefully curated by me, myself and I. Sampling and taste testing new products is required…I love what I get to call "work". I get excited when I make deliveries and I'm rewarded every day with smiles. Read more>>
Ben Cooney

Ben Cooney and Jill Hayes, a husband-wife team, own and operate Homespun Gifts and Decor. In 2012, they began creating a series of works of art that feature their photography of iconic local destinations imprinted on pieces of wood. That hobby later became Lucid Wood, a line of products sold at stores and online across the state and even across the nation. When Ben and Jill welcomed their daughter into the world in 2016, they knew they needed to move their home-based business out of their home. They found a studio space in South Minneapolis not far from their home that also featured a 450 square foot public retail space. After calling on the amazing local art community, Jill and Ben built out a retail space featuring work made and designed entirely by Minnesota-based makers and artists. They called their store Homespun Gifts and Decor. Read more>>