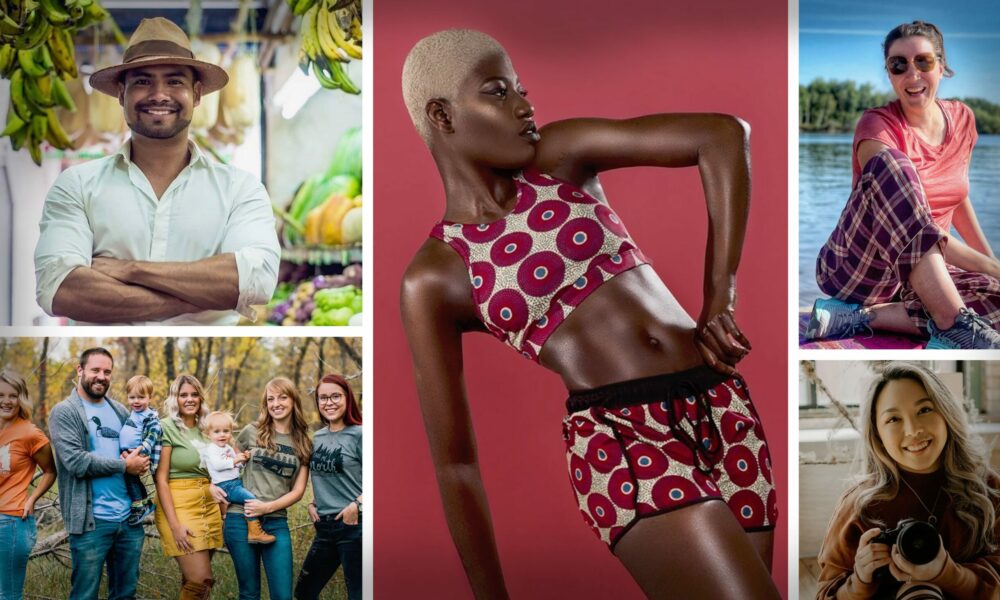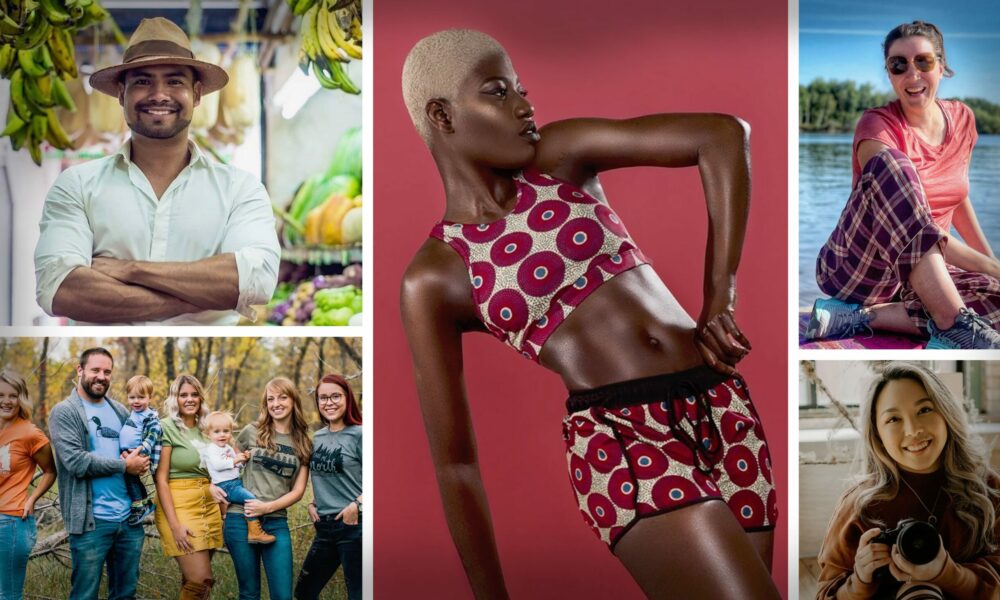 Every day we have a choice. We can support an up and coming podcaster, try a new family-run restaurant, join a boutique gym started by a local fitness champ or we could keep giving away our money to the handful of giants who already control so much of our commerce. Our daily decisions impact the kind world we live in; if we want a world where small businesses are growing and artists and creatives are thriving then we should support them with our time, money and attention. We're proud to highlight inspiring creatives and entrepreneurs each week in Hidden Gems series.  Check out some of our latest local gem features below.
Lindsay Murray

My story begins in the classroom! I became a teacher 15 years ago; I teach 7th-grade middle school English-language arts. My husband and I got married and have three beautiful children. When my son was born, I began to realize that mothers are extremely isolated at first and wished there was a community to share stories of love, laughter, sadness, and inspiration for one another. I began Band of Mamas, my blog, on Mother's day in 2018. My journey with writing began because I wanted another way to connect to women who have such wonderful stories. I started by interviewing one mother each month who was willing to share her story–whether it be hardship, grief, or joy. It has been such an incredible experience for me to learn from others and in turn, helps propel me to be so grateful each day for my life as a mother. Read more>>
Colleen McDaniel

Interior Design and Fashion have been life long passions of mine. To be able to help others realize their own style and find a sense of confidence they've never know before has always been the dream. It was only a matter of time before I started exploring opportunities in both industries to see what was possible for me. Before starting Texturehaus, I worked for a company collaborating with interior designers, owners, developers, and others to execute on hospitality and commercial related interior design projects. My focus was on commercial furniture, lighting and aesthetic. I was instantly hooked. In addition to my experience in the interior design industry, I had years of experience in retail and styling. During this time, I was lucky enough to curate wardrobes and professional styles for my clients. After finding myself in a space where I couldn't choose which world I liked more, I decided to pursue both. As a result, Texturehaus came to be. Read more>>
Angelina Nguyen

Perhaps because I grew up bilingual and bicultural as a Vietnamese child refugee in Minnesota, I lead a multi-faceted life. I studied the social sciences and work in the government sector by day. I'm a writer and photographer by night and weekends. All of these different hats revolve around story-telling, whether by using data, narrative, or candid moments captured through my camera. My parents are Vietnam War refugees. My dad was drafted to serve in South Vietnam's army in his late teens. When they lost the war in 1975, he was held was a prisoner of war for ten years. Life was very difficult, near impossible, after his release. He sought asylum and our family arrived in Minnesota in the early 1990s when I was 8 years old. We didn't speak English. My parents sold everything they had and carried a couple of thousand dollars with them. Read more>>
Megan Mann

From a young age, music and art have been a large facet in my life. In both middle and high school, orchestral music was my focal point, being a violinist. I diligently obsessed over bettering my scales and complex pieces, practicing for hours on end daily. My parents loved attending our concerts, and it was great to have their support. After high school, my taste in music shifted to quite the opposite side of the field- electronic music. Throughout the duration of my attendance at Augsburg University (Minneapolis), my major changed many times- a common theme for a lot of students thinking about working in the creative field. After realizing that I wanted to work in venue operations and in electronic music, I wasn't sure what to do in school. Read more>>
Beth Rubin

I graduated from Bradley University with a Bachelor of Arts in Advertising and Studio Art. Following college, I worked for a financial company in Chicago as a desktop publisher. From there I landed a job at Sudler and Company where I continued to grow and develop as a designer and ultimately was promoted to marketing director. As a marketing director, I led a team of 120 real estate agents at five office locations; providing marketing and communication services. I eventually relocated to my hometown Minneapolis where I created my own business called Where it Blooms, LLC and began working with small to mid-sized businesses, nonprofit organizations and professionals to provide custom marketing and design services. Read more>>
Tyson Crockett
I fell in love with film photography at a young age, enjoying everything involved in the process of developing film and resulting in seeing your image come to life in a chemical bath. I don't remember how I got my first camera, just that by the time I was in high school, I always had one with me. After high school, I continued to pursue knowledge about the subject, including branching into digital capture. One of my other passions is action sports, in particular snowboarding and skateboarding, and in my early 20s, I had access to a number of professional athletes – many of whom happened to be my friends, so they frequently became my subjects. I enjoyed sneaking into their homes and replacing their framed photos with ones I had taken, to see how long it took them to recognize the change. Read more>>
Shardae Robinson|
It all started 5 years ago, as I came into the local music scene here in Minnesota. My current dear friend but then manager, Devonne Mayweather took me under his wing and introduced me to many artists, Dj's and promoters & more. I performed at tons of open mics, got booked for a few shows and even went out of town. Soon after, I released my 1st single & video called "TURN UP". From there I continued to drop covers, singles and even started a few businesses. My Entertainment brand DaeTV Entertainment LLC and Mommy&ME Vending Services. DaeTV Entertainment LLC is an Entertainment company/label that focuses on music, events and promotion. I signed myself as an artist under my own label, as well as my daughter's modeling career and other entities that fall under my brand. Read more>>
Brittany Davis

I started my journey almost 10 years ago I was a freelance make up artist and I just knew that I wanted more and I wanted a career doing something that I felt as happy as I did doing make up so I researched different things I could go to school for and came across aesthetics! I instantly fell in love with skin! I went to school and got my license five years ago I worked for big spa brands like massage envy and Ulta and two years ago after my divorce, I knew I needed a change so decided to step out on faith and invest in myself and start my own business in my mother's basement is where skin quench was born! Best decision I have ever made! Read more>>
Willow Waters

For as long as I can remember, I have always been attracted to sound and music. I grew up in a non-musical family and had to find my own way as a musician. I have two older siblings who both played instruments in school and I was so eager to have a chance to play myself. We had a piano in our house growing up and despite not having much success taking lessons as a five-year-old due to my yet undiagnosed ADHD, I still found myself playing it a lot at home. I loved trying to improvise and experiment with sound from my own vantage point. When my sister got a guitar, I was immediately attracted to it and asked my sister to show me everything she learned on it. Through the rest of my years in school, I continued to find new instruments to mess around with. Read more>>
Natalie McMillan

I started photography when I was in high school as just a hobby. A year after I graduated in 2015, I was asked to shoot my first wedding for a friend. I continued to do photography for fun as I continued to go to school and work in the medical field. In 2021 I was starting to feel like the career path I was on wasn't something I was passionate about. It was then, that I decided to offer more of my time for photography sessions and started to grow my business. In that year, I booked 57 sessions and realized I could make my passion and hobby my career. On 2.22.22, I took the next step and I got my LLC. I never thought I would be where I am today or own my own business. It has been the greatest experience of my life. I love being able to help people tell their story while also making them feel beautiful and enjoy the memories of the season of life they are in. Read more>>
Mally Yang

Photography for me was always a creative outlet and something I enjoyed doing. Before I even purchased my first real camera I was always taking photos on my phone. I had an enjoyment for fashion ever since I was in junior high school as well and so my love for photography probably started when I wanted to post and share my interest in fashion and styling clothes online. All of the cameras I've ever owned in the past and present I saved with my own money and bought myself which I always found was a very accomplished feeling. I went into college with an undecided major and like most college students, I struggled figuring out what I wanted to do with my life. I ended up majoring in elementary education and have a degree in teaching. While I was in school I always did photography on the side. I started charging for the work that I do and eventually realized after graduating college that I wanted to pursue photography and see where it would take me. Read more>>
John Enger

I started woodworking as a tiny kid. Maybe six years old, if I had to guess — the age my dad judged my hands strong enough to hold a wood rasp and block plane. I quickly got obsessed. Pretty soon I was building boats, and selling my belongings to buy hardwood from the local mill. After college, I spent a decade in journalism, but I couldn't seem to quit building things. I turned the basement of one of my first apartments into a low-budget woodshop. I could only build things small enough to fit out of an egress window. It wasn't ideal. Half a dozen years ago, I started building timber frame structures. But materials are expensive on a journalist's salary, so I hewed the timbers from logs with my grandfather's old felling axe. These buildings got some attention from locals. Timber frames, especially ones cut by hand with axe and chisel, have a feel of permanence to them that cannot be replicated. Some of the oldest buildings on earth are hand-hewn timber frames. Even new, they carry the lineage. Read more>>
Jordan Willaby

Design has always been part of who I am. When I was younger, I would spend hours rearranging my room, collecting paint swatches from the hardware store, and drawing designs in my sketchbook. Fast forward to high school, I took a class on Sketchup, which is a rendering software, and quickly realized that I loved 3D design. Through studying Public Relations + Graphic Design and Residential Interior Design in college, I built upon my skill set and knew that I eventually wanted to start my own business. After working for a residential remodeling company for close to four years post college, it was time to make the leap to go out on my own. In the summer of 2020, I started my interior design business – Willaby Way. Read more>>
Taylor Meyers

I moved to Minnesota and started Chiropractic school in 2014. Prior to that, I had been living in Thunder Bay, Ontario, where I attended University. While earning my undergraduate degree in Kinesiology, I became fascinated with the intricacies of the human body. I knew that I had to move forward with a career in health, but I did not like the model of allopathic medicine, nor the hectic lifestyle that came with it. I was drawn to the holistic model of chiropractic and its focus on prevention and movement based therapy. During Chiropractic school, I found Neil, my current business partner, and asked if he would take me on as an intern. Now, when I say asked, I went ahead and filled out all the required paperwork for him and then asked him to sign it. He agreed, and within a month of interning at Core, he asked if I wanted to join the practice upon graduation. Read more>>
Hayley Stoffel

Growing up, I always knew I wanted to be a hairstylist. As a little kid, my Mom did hair & I was always so intrigued by all things beauty. After graduating high school in 2014, I attended the Minnesota School of Cosmetology in Woodbury. 2 weeks after graduating & getting my Cosmetology license I started at Spalon Montage in Woodbury and went through their year long apprenticeship program. I took classes every week, worked on models, assisted & shadowed directors & started to build my own clientele. I worked as a full time stylist there for about 6 1/2 years before opening up my own salon suite "The Hair Buth" at Salons by JC in Cottage Grove. This has by far been the best decision for my career. I absolutely love being my own boss & having the creative freedom as a hairstylist. It truly is so rewarding & having my own space for my small business has made me fall in love with doing hair all over again! Read more>>
Tess Kalk

I was a college professor with a side hustle as a jewelry artist. After many years of trying craft shows and considering putting my products in local stores, a small storefront became available in early spring 2015, right before I was set to begin my first sabbatical. The space was less than 400 square feet, the rent was $400 a month, it was a perfect starting point! I opened the store with 35 local Minnesota artists and grew to 65 artists by the end of our first year. We were outgrowing our super small space and I found a storefront closer to my home with nearly triple the space and room for craft classes. After another two years in business, we were approached by the Meet Minneapolis Visitor Center to open a retail area within the space. We had a wonderful run with our two stores before the pandemic hit. Read more>>
Janna Brayman

Writing saved my life. When I was in college and the walls around my world came crashing down, I wrote. About nothing. About everything. When it all fell apart, it was the pen that held me to the ground and brought me to my truth. I wrote and I wrote. I never stopped writing. Because of the profound and healing effect writing has had on my life, I have spent over two decades exploring the research and literature on what happens mentally, emotionally, physically, behaviorally, and socially when we write about our lives. I've written with hundreds of people across an incredible range of populations including, but not limited to: refugees and immigrants, K-12 students, undergraduates, university faculty, pregnant/parenting teens, youth and adults experiencing homelessness, depression, and anxiety, teens choosing sobriety, community-based art educators, mental health professionals, social workers, occupational therapists, and youth of all socioeconomic, religious, and racial backgrounds. Read more>>
Emmanuel Walyaula

My name is Emmanuel Walyaula I was born in Uganda. I came to the United States when I was 8 years old. I have branded myself as such: An energetic individual with a Bachelor's degree in Marketing & Communications. A Determined marketing professional with a vision. Experienced in leadership, problem-solving, organization building, public speaking, event planning, crowdfunding, mentorship, marketing campaigns, sales & public relations. An established public figure in the state of Minnesota known for many talents and skills including Dancing, MCing/Hosting, Consulting, Making Music, Acting, and much more. I owe my story all to one but God himself. Because of him, I get to tell my story by showcasing the brand I created and the people that helped shape what it is today. Read more>>
Terry Vincent

I've been around the arts my whole life. My mother was a poet, and a writer, both of my grandmothers sang at their churches, my uncles would play in the band, and my auntie was a talented actress and screenwriter. I've been blessed to come from families that love, and encouraged me to pursue art. When I got older, I created a business King Industry, and my goal was to help artist fine tune their skills, and also provide what I like to call "art therapy" through a program we call Therapy Thursday's, for those in need of a productive way to channel their grief and pain. Read more>>
Casie Shepherd

Health has always needed to be a focus of mine with many things I have gone through my entire life. Growing up, I always was working through something. I had chronic and reoccurring UTI's as a child and was put on round after round of antibiotics. Around 6 I started therapy and figuring out what my diagnosis were with a lot of issues I was having and figured out I had Tourette's, anxiety, OCD, depression, and ADD as a child and was medicated for it. When I was in 9th grade I decided to ditch the medication and finally hit puberty. That brought on a ton of other issues with what they thought was asthma at the time (later to find out it was just inflammation and issues from hormonal imbalances). I became an all star basketball player getting recruited heavily across the US and signed to Colorado State on a full ride scholarship. Read more>>
Meranda Heinecke

Starting at a very young age, I enjoyed being the one behind the camera. I liked to capture the moments, to better remember the memories. I turned a passion of mine into a business when I combined it with my passion for travel. I used the photos I took of close friends and family as a fundraiser to study abroad in Australia. Along the way of what I thought was just a fun way to fundraise, I fell in love with the craft. After overreaching my goals, I took a break from photographing for people and just took photos for myself, for fun, in the beautiful country I was studying in. However, when I returned, I also returned to a flood of people who had spread my work I did prior to leaving and they wanted photos of their own. I then realized, this was something I could pursue; something greater than a hobby. It had blossomed to not just friends and family, but people all over my state that wanted the work I was doing, and I loved every minute of it. Read more>>
Kara Carlson

Tony and I grew up very differently, but we landed in the same small town in northern Minnesota. We met in middle school, dated for a short time, and then went our separate ways in life after high school. It wasn't until after college we reconnected through a mutual friend. I think our history of knowing each other from a younger age gave us a foundation of trust for a lot of things that happened after that: marriage, kids, and starting our business. When we first got married and bought our first home together, I used to blog about Tony's house projects. It wasn't until we went through a kitchen renovation together that I really recognized how talented he was. Neighbors would hire him to help with small house projects and I remember thinking how great it would be if one day he could leave his job to start his own renovation company. Read more>>
Nikki Butler

I grew up in Delano, MN, and graduated with a B.A. in Communication from The College of St. Benedict/St. John's University. I now live in the western suburbs of Minneapolis and absolutely love raising my family in Minnesota. We have so much to offer and the people are resilient, kind, and creative. I have been consulting with business owners and operations teams for nearly two decades; working with national mega-brands, small boutique start-ups, and everything in between. I say I wore all that hats because my professional roles & responsibilities varied greatly based on who I was supporting. My diverse background includes leadership, strategic planning, brand building, integrated marketing, training, consulting, internal website design, program development, and project management. Doing a little bit of everything allowed me to provide a multitude of services that best fit my business partner's needs. Read more>>
Cristobal Tamariz

Since very little, I wanted to be a Chemical Engineer, so I followed that path and did an associate degree in chemistry for 3 years, then I started my degree in Chemistry at the Instituto Tecnologico Nacional in Hidalgo, and one day in my Chemistry class, I said "oh, I think this is too boring for me, I'm going to be a chef" so I started to look for schools that provide a degree in gastronomy and I found one in Puebla in Central Mexico, my parents were so disappointed with my decision and I really didn't understand also, why I wanted to be a chef, I never had that thought before, then when I finally started my degree in Culinary arts and Management I realized all this it was my parents' fault! My parents are crazy foodies, they have no idea but they are, they thought me the true appreciation and love for good food. Read more>>
Nettie Sparkman

If there is a takeaway I would like you to part with, it is that change and the unknown should be your partner, not your enemy. I am a firm believer that outlining personal and professional goals are beneficial, but detailed plans are a disservice to your happiness. Plans rarely go to plan, and when you pour yourself into such a detailed plan, it leads to disappointment when the plan changes even if you later find that the change of plans turns out to be one of the best things to happen to you. When I was younger, I wanted to be a Marine. I went to Iowa State University and planned to join the ROTC program. I quickly learned that a heart condition bars you from joining the Marines. Change of plan. I had to find another passion. I changed my major six times: psychology, event management, business, marketing, dietetics, genetics. Change of plan each time. I planned on going to medical school to focus on in vitro genetic modification to cure genetic diseases. Read more>>
Ashley Wright Slegers

It sounds cliche, but I kind of stumbled into photography on accident. Looking back, I see that I used photography as both a way to remember things that mattered to me as well as scratching that creative itch. It wasn't until several years after college that I realized I could turn my hobby into a career. A photographer friend told me I should give photography a go–I had a natural creative eye and real potential. So, I did. I borrowed her camera until I saved up for my own. I started photographing anything and everything, excited about what I could do and see and make. It wasn't until my late 20s that I started to understand why I was drawn to photography. My style and approach has seen a lot of changes and refinement over the years, but my heart was always the same: I make photos to help people remember what happened, who was there, and why it matters. Read more>>
Alex Lambert

I started my career at a small public relations shop in Minneapolis. We were a four-person team with a hefty client roster and I was immediately thrown into the deep end which was awesome. We had a client call us on a Friday saying that their social person quit and asked if we did social media. Being in client services my boss said, "of course we do!" hung up the phone and raced around the office to find out if one of us could do the project. My response was, "I tweet sometimes," so I took it on as a temporary project. The client ended up loving what we were doing so much that it became a full time offering at the agency. That's when I knew my path was going to be more in the social media space versus strictly public relations. Read more>>
Tiffany Weiss

I actually went to school for design and somehow knew I wanted to do this since the 8th grade. A teacher told me about a 3d modeling/drafting class as an elective option, so I took it and loved it. My degree is a Bachelor's of Interior Design from the University of Arkansas. The year after finishing school, I moved to Puerto Rico for a year, with my boyfriend of six months, where I took on my first freelance commercial space planning job designing an office space. After moving back to Arkansas, I felt lost not knowing which route to go work-wise until an older friend became a sort of mentor and guided me into applying for the right architecture firms. Read more>>
Jenn Espinosa-Goswami

When I was a kid, I was the quiet and shy one. If you had told me that someday I would be a professional speaker, I would have laughed at you. The idea of becoming a speaker started with Toastmasters International. It was part of my personal development in my corporate career within financial services. I fell in love with public speaking, and went on to win speech contests and serve as an officer of my local chapter. Toastmasters also inspired me to share my personal weight loss story of 100 pounds for the first time. When I lost my job, I decided to turn my love for public speaking into a career. Having lost a significant amount of weight, I started with a signature speech of weight loss and healthy lifestyle. This resonated so strongly with my audiences that they approached me afterwards to work with me as a health coach. Read more>>
Laura Adrian

My business Whole Life Elevation has been an interesting journey! It has been been an eclectic and unexpected endeavor. I now offer rich experiences that open people to connection—connection to themselves, the natural world, and one another. Nature has played an important role in my life since my childhood. I spent my summers playing in nature, making up stories, camping, and building forts. My interest in the healing arts began to unfold as a teen when I started practicing yoga. Since then I've been wildly curious about holistic healing modalities. In college, I double-majored in chemistry and environmental science which was a path my parents were supportive of, very practical. I was a serious student with lots of undergraduate research under my belt, I was planning on going to graduate school to study how chemicals move and change as they move through water and soil. Read more>>
Marcia McKinney

Today, I am a broker (and owner) with Northeast Insurance Advisors. Prior to this, I spent 20+ years in the hospitality industry, working with restaurants and catering companies from Minneapolis to Chicago and even Key West FL. In 2008, with the recession looming, I was laid off from my Sales and Marketing position with a local prominent catering company. After about 6 months or so, trying to figure out what I would do next, a friend suggested the insurance industry. I kind of rolled my eyes, thinking that path didn't sound too exciting and potentially not a good fit, business-wise. But, on the same hand, I knew that perhaps it was time for me to retool myself and consider a new industry. When going into the insurance industry, the first thing to do, is to get licensed. There are classes you can take to prepare you for the test you need to take and pass, to obtain your license(s). Read more>>
Amber Lampron

In the summer of 2017, Terry Walsh and Amber Lampron were having a glass of wine overlooking Lake Harriet and discussing a family in crisis at a school where Amber worked. They saw a need for a way to quickly and efficiently help families remain stable when a crisis strikes. Terry said, "I think we can do this with the help of my band." And Foothold was born! Read more>>
Kelly Korver

As far back as I can remember, I have always been encouraged to be creative and think outside the box. I really enjoy creative processes, especially sewing and painting, so I went to college to study Apparel & Textiles as well as Art. During college, I discovered screen printing and began to design custom shirts for family and friends. As I got more requests for these custom designs, I decided to start Birds Kept North as my creative outlet. I opened an Etsy shop and began to look for local street fairs and craft shows to sell at. Read more>>
Nyla Ruiz

Hello, beautiful people! I am Nyla Ruiz, but I go by Nyla Imani on YouTube and my social media platforms. I am 27 years old and originally from New York. I was born in Harlem and raised in Queens. I moved to North Carolina when I was 12 years old and lived there for 15 years until recently, so I guess I'm a southerner but I don't like to admit that. I am a public health professional with interests in racial equity and health equity (you can't have health equity without racial equity). I recently moved to Minneapolis for work, but I am excited to be here and explore a new city and enjoy a new environment! Calling myself a creative out loud is hard for me to say. I'm not sure why, but I am a creative. As a kid, I was a dancer and I was into art, so it has always been a part of who I am. That creative energy shifted to using makeup as a form of expression, which then led me down the road of content creation. Read more>>
She'marie Scates

Wow, my journey has been my biggest blessing! One day a friend asked me to do their makeup, I thought she was absolutely nuts. Since that very day, I have been doing makeup! 2021 started my journey as a full time makeup artist. I haven't looked back since! Read more>>
Matt Shelton

I took a liking to baking at a young age as I loved the process of creating something special that people all could enjoy. I never really thought of it as a career path, just a fun hobby and an easy way to have cake on-hand at all times in the house. I spent my high school and college years working at restaurants and really enjoyed the operations and small business environment. After completing my business degree in Accounting, I worked a variety of roles in corporate accounting, finance, and project management. I spent almost 15 years, primarily in the hospitality industry, working in a corporate structure and was looking for an opportunity to take a shot at a small business of my own, taking with me all the valuable lessons learned. My wife, Kate, and I also wanted to build something our four young children could have fun with and be proud of. Read more>>
James Capanas

Around 7 years ago, I started getting into social media and followed many sports pages on them. I seen these little designs and cool wallpapers that I used for my phone and wanted to learn how to make those cool backgrounds. I started watching a lot of YouTube and learned how to create those on my phone. Eventually, two years later, my school gave out free laptops to kids whose families do not have the funds to buy a school laptop. Fortunately, I was able to get one. Once, I received mine, I ran to YouTube and searched up how to use Adobe Photoshop and how to create art on there. I brought my passions of sports and art into the designs I made. During the past 4 years, I was on and off when it came to editing and made designs for sports, music, and media. It wasn't until January of 2021 that I started making art for fun. Read more>>
Lamont Fondern Jr.

6 years ago, I started working in the field of working with children. I currently work as an Education Paraprofessional with grades 6th-8th at a local charter school in south Minneapolis. I also work for Minneapolis Parks and Recs, as a park recreational specialist and help run the basketball program at Bottineau Park. I am currently in school studying education to become a teacher. Read more>>
Jordan Pearson

I had a successful real estate company and bought and sold real estate on the side. The local country club came for sale, and I was worried that if we lost it that it would affect the real estate market, so I purchased it and have kept it going as a public 18 hole golf course. Since then I sold my real estate firm and now winter in Florida and operate the golf course in the summers in MN. Read more>>
Tim Shore

Back in 2013 my wife, Jen, wanted a paddleboard, and throughout researching the different options I stumbled across some guys on both coasts building wooden surfboards, and absolutely fell in love with them. The look, the environmental benefits, and lastly, the fact I could make it my own. Something at that time triggered in me to want to build her one. I mentioned that to her, and she was like, yeah right?!? At that moment it became a challenge for which I accepted! I couldn't blame her for her reaction because to that point I had absolutely no woodworking experience. It's crazy to think back to that moment because at that time I didn't realize that the next 2 years (the time it took to build that first board) were going to completely transform our lives. Read more>>
Diana Kinkor

I really have always had a camera of some sort since high school. But my passion really started once I picked up a DSLR somewhere around 2014 and taught myself how to take photos in manual mode. I never let myself use any of the scenic or auto modes while learning. I could now also reach farther and make the images look like what I was seeing in my head. That took a while to really figure out on my own. I have taken some classes on editing and 1 in particular really advanced my techniques. My first venture into portraits, was of my son. He is on the Autism spectrum and felt there was no need for senior photos, even though the photos are really for the parents and family. I had to bribe him with going where he would allow me to photograph him, Duluth MN & $5 cold hard cash. I was hooked. Read more>>
Jen Fieldman

My story as an entrepreneur started back in 2018. I was burned out after almost 20 years in advertising and marketing, and quit my job without a plan. Fast forward three months of self-reflection and freelance work. I found myself at a crossroads, wondering if what I should be doing. If there was something "wrong" with me for not being happy in my work. I soon found myself on the doorstep of a Medium/Channeler/Life Coach. Within the first few minutes, and not knowing why I was there, he told me I was going to run my own business. I laughed and said, "Me?" That did not sound like me at all. Yet, the more we talked, the more my gut and intuition said he was right. So then and there, I decided to start a business. Read more>>
Sylvester Ndhlovu

I was born in Harare, Zimbabwe (Southern Africa) and went to high school in Ghana (West Africa). My high school in Ghana was an international boarding school so it gave me a great opportunity to interact with students from all over Africa at a very age. I was exposed to so many different African cultures and food (mostly Ghanaian food), and those early years really shaped my worldview. Up to this day, I'm fascinated by people's experiences and where they come from. After high school I got a scholarship to attend Concordia College in Moorhead, Minnesota and I was fortunate to know other students there that had gone to my high school. In college, I majored in Economics and Business, minored in Mathematics, and played varsity soccer for all 4 years. Read more>>
Jessica Lemperes

I have always taken an interest in business and operations, although getting to where I am now was a path with many twists and turns. After watching my dad run his own business, I knew that someday I would be on that same path. I share his borderline workaholic tendencies and a drive for small businesses to succeed. It's a passion that is either in you, or it's not. While I don't own my own business yet, I am currently the Integrator for Local Roofing. "What in the world is an Integrator?!" is a question I get asked a lot! I actually struggled for many years to define my role and my "title" as I have always done a little bit of everything. I actually sat down with a pen and paper and listed all of my skills and all of my desires in a career. Read more>>
Kelsey Hilgers

I have always loved taking pictures and the art of photography. When I was a kid, I was usually working my way through a Kodak disposable camera that I'd then beg my mom to take to the One Hour Photo Counter at Target so I didn't have to wait to see the results of all those shutter clicks. In college, I always would take my point and shoot along with me to parties to document all the fun times I was having with my friends. As camera phones got better and better I relied more on mine to take pictures and would dutifully take pictures of my dog, food, and lattes (like any good millennial), crop them down to 1:1 squares, and post them to Instagram. Read more>>
Ebony Ivey McDonald

I never imagined I'd be in the creative field. At a young age, I was introduced to all kinds of music and knew the words to songs more than I knew my times tables. If you ask either of my parents, I'm sure their predictions for me would've been a career in the music industry. As an incoming college freshman, I actually declared as a Music Industry major, but that soon changed, and for the best. It wasn't until college that I discovered my love for designing and creating. I was always the one designing flyers for events, setting up a Powerpoint template, or helping someone decorate. I also learned to navigate computers early in life so my knack for technology came innately. After switching to marketing and public relations as a major, I soon began coupling my computer skills with my creative abilities and the two translated into a passion for designing and developing websites. Read more>>
Megan Medin

I started my photography journey when I was just 14 years old. It all started when my dad purchased a camera for me for my birthday when I was in 7th grade. I was always the friend that wanted to take pictures or capture special moments throughout my life. Photography was something I always had a passion for and I knew I had wanted to make a career out of it. It started with taking pictures of friends and family, and then I met my mentor and good friend JoJo. Jojo took me under his wing as we both navigated the photography world and we started with our first wedding in 2016. We constantly leaned on each other for support and guidance and I was able to create my own website and started advertising my business. My business quickly grew and I started doing all kinds of sessions such as weddings, senior portraits, family portraits, maternity, and lifestyle photos. Read more>>
James Gross

I received my degree in photography 1990, from there I was a freelance assistant and photographer for commercial photo studios here in the twin cities. I learned to take the basic lighting techniques from school and build them into far more effective tools to create images for advertising. Shooting for clients ranging from BMW, Coke, PepsiCo and Heinz. To fashion from target to Pairs fashion week. I opened my own studio, JG Studios, in 1998 overcoming obstacles like the change from film to digital, and the economic crash from 911 to competing with the new generation of digital image and content creators that have no formal training or experience. Read more>>
Katayoun Amjadi

I studied fine arts and found my passion in the rich and ancient practice of ceramic art. Right after graduating from school, and with the help of the Minnesota State Arts Board Artist Initiative Grant, I set up my studio in 2015 in one of the historic arts buildings in NE Minneapolis. Ever since I've been actively working as a conceptual installation artist and studio potter from my corner basement studio. Read more>>
Taylor Carlson

My eyes were opened to the world of design in college at Bethel University. I took a digital media class and was instantly hooked on the possibility of a career in a creative field as I learned the fundamentals of graphic and web design. I went on to intern for Spitfiregirl Design but ultimately pursued a career in advertising after college. My time at agencies and eventually on the corporate marketing side gave me invaluable experience, but ultimately, my innate desire to design led me to focus on starting my own business. I'm a mom of two littles and I now spend my time balancing my part-time marketing role while building my business, Tate Design Co. I think it's so important to show my kids that you don't have to choose just one option. You can be an amazing mom AND build your business and make space for the things that give you life. It might be easier said than done, but I'm going to give it a whirl! Read more>>
Alison Guessou

I first made my first dive into film in 2014. At the time, I was very ignorant about the different types of positions in filmmaking and thought that everybody who is able to call the shots is an actor. I quickly found out that I'm not built for acting. A few years later in 2016, I did some research on the industry to understand what roles fit my experience as a Project Manager – and the role "Producer" kept popping up. The more I read about the Producer role, it practically fit everything I was looking for. They are able to manage the end-to-end production of a film and being a Black woman of African descent, it was important to me to be able to tell those authentic stories, outside of the clichés we were so used to seeing at the time. Since I did not go to film school, I took the opportunity to work on as many people's sets as I could. I was able to pick up a decent amount of knowledge. However, it got to a point where, finding those fulfilling roles (both financial and mental) were far and few in-between, plus the upward mobility in such a small film industry (Minneapolis is more of a Commercial town) felt practically impossible. Read more>>
Christopher Villegas

My story begins when I was a pre-teen and would plan and host a recurring party in my neighborhood called the "Party House". I would design and print fliers promoting the part and slip them under the front door of my friend's houses. My neighbor and I would then decorate his parent's living room and would host dances for all the kids in the neighborhood. I did this for many years growing up as I enjoyed it so much. Fast forward many years later to my adult life working full time at Target Corp. I was a Senior Systems Engineer in Technology but also volunteered on the LGBTQ Business Council and was the lead for setting up events to kick off Pride across the organization. This was no small task but one that I'd been waiting to do my entire life and it turned out to be one of the most memorable parties of my life. Part of the event included a Team Member Drag-off as part of the entertainment and our CEO, CFO, Chief of Police, and Mayor all showed up to the event. Read more>>
Lauren Wilkinson

My first experience with photography came from my mom! She took photos of EVERYTHING! From there, I got a job while in college working at Kiddie Kandids in Orland Park, IL. Kiddie Kandids is a chain of small studios that were located inside of select Babies R Us locations. It started as a seasonal position, but I fell in love and they decided to keep me! The whole team was so incredible and encouraging and my love deepened. When my family decided to move to the Twin Cities I started at Proex where I learned more and developed additional skills. After they closed, I decided to start freelancing. It was sparse at first and definitely not some of my best work, but it was fun and I met some wonderful people who have become life-long friends! Read more>>
Abigail Barrett

I have had a 40 year career as an industrial psychologist and executive coach, including owning and building my own consulting business, Leadership Transitions (LT), for the last 23 years. I've helped scores of business owners and entrepreneurs transition their businesses from one generation to the next. Leadership development and coaching for effective career transitions and skill development have been central to my work. I've noticed over the years how difficult it is for business owners to exit, and I felt the trap myself once I built the practice. About five years ago I set out on a mission to exit my own business well, and create a "life by design" plan for my post business career. For me this included oil painting, which I have been doing for about 8 years now. I envisioned spending time in classes and workshops, painting on hillsides with friends, and traveling to paint the beauty of the world. Read more>>
Dr. Sheena Sikorski

Senior year of high school, I discovered the field of psychology and the bountiful opportunities it holds. Since that time in 2004, I dedicated my educational journey to nurturing my love of psychology, which culminated in a doctorate degree earned in 2016. After graduating with my doctorate, I worked in a number of settings. Just over a month ago, I left my full-time job on an inpatient psychiatric unit to pursue my solo private practice in the heart of Minneapolis. Being able to be my own boss is the best and most rewarding thing I've done to date! Read more>>
Matt Addington

I was always interested in photography as a young boy. That interest followed me through school where I was an art major in college and eventually got a job teaching photography and video production. As often is with teachers, I was being asked to do a lot of side work for people. That business continued to grow and was always overwhelmingly rewarding throughout the years. I worked really hard at both jobs for a long time and was fortunate to have two really good jobs. About eight years ago, I put aside teaching and was able to make photography my one full-time job. It has been an incredible blessing to do some thing that I love so much and still be able to make a living and provide for my family. Read more>>