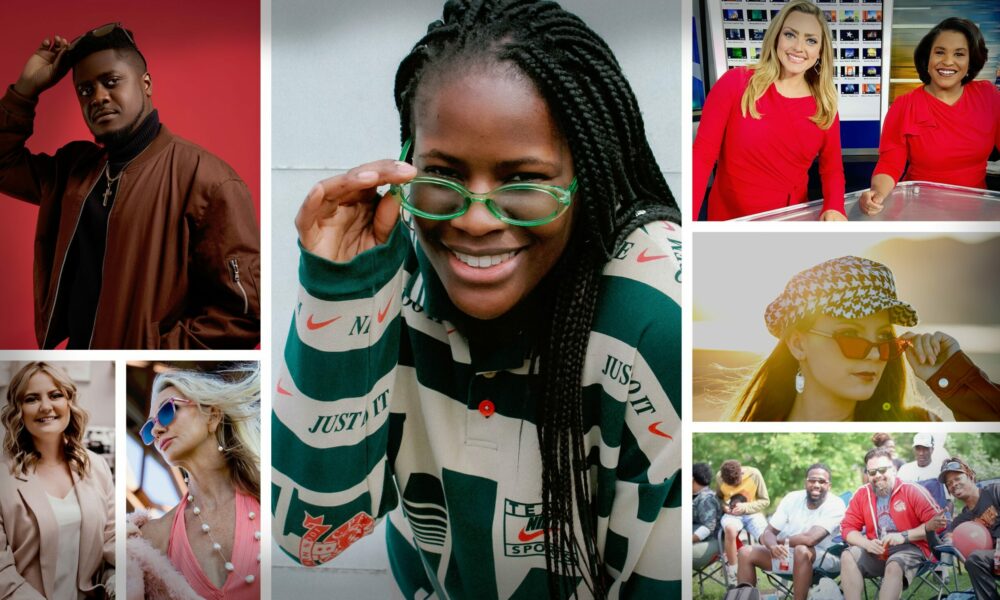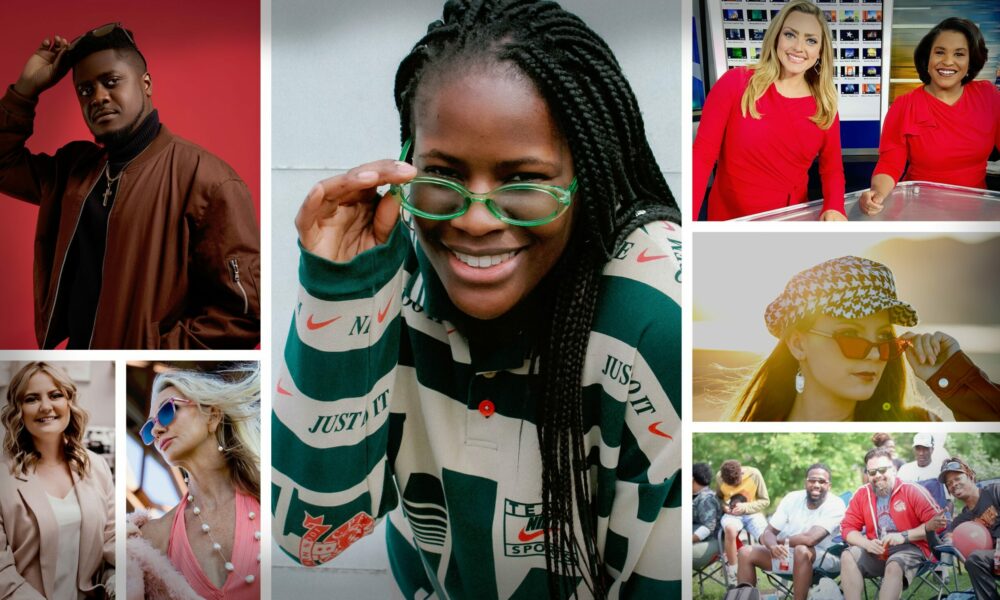 The heart of our mission is to find the amazing souls that breathe life into our communities. In the recent weeks, we've had the privilege to connect with some incredible artists, creatives, entrepreneurs and rabble rousers and we can't begin to express how impressed we are with the incredible group below. Check out our favorite stories from across the Voyage family.
Melissa Steedsman

521handmade was created in 2014 when I started making handmade pillows in my tiny studio apartment, using the kitchen counter as my workspace. I have a Bachelors Degree in Apparel & Textiles, but was too afraid to take a sewing class during college. I taught myself how to sew by watching YouTube videos during a freezing North Dakota winter and instantly fell in love with product design. Read more>>
Juiette Z. Payne

Born September 21, 1988 in Chicago, IL, I developed a passion for singing at a young age – belting out commercial jingles and television theme songs all day long. God used my love for singing jingles to develop me into a worshipper. With humble beginnings, I joined the Evangel Youth Choir at the age of 12 and began to develop as a singer. My Youth Choir was extended the invitation to travel to Florida and sing alongside grammy winner Donnie McClurkin. Read more>>
Ian Hoxworth

I am currently a property manager, after over a decade in convenience store operations. I was a District Manager for 5 years in that organization and currently manage HOAs as my day job. I have my MBA from Hamline University and have enjoyed team sports throughout my life, playing football, basketball and track in high school, and on many rec teams since. Kickball has been great because you can play at varying ages and ability, much like softball. Read more>>
Brenda Dodge & Dana Strothenke

Character Kids was born in 2008 in San Diego when Brenda Dodge was working as an actress at regional theaters throughout Southern California. After teaching a few summer theater camps, she discovered her love for theater education. She wanted to combine the need for quality performing arts education, as well as the growing demand for after school programming. And so she began offering theater classes at local elementary schools and community centers, hiring professional actors to teach the classes. The program grew quickly and reached thousands of students throughout San Diego and Los Angeles Counties. Read more>>
Felicia Permenter

AKN Wellness was born after I had my third child, I wanted to find a way to serve my community in health and wellness without having to go back to graduate school or return to work full time. As an ICU nurse, work for me included nights, holidays, and weekends. I no longer wanted to miss valuable time with my family and I also wanted to support people before they got sick and ended up in the ICU.  Read more>>
Justin Ridlon

John and I have dreamed of careers that involved nature and visual imagery since we had been in high school. Life has a way of not letting you forget your dreams, and every time we found ourselves around a campfire, inevitably the conversation would come up of "How can we share this with other people?" It wasn't good enough for John and I to just post our adventures on social media.  Read more>>
Anna Finger

My story is one that almost didn't happen. My life was one that almost didn't happen. I was born in China and adopted by two amazing parents. They picked me out of a photo lineup before even meeting me in person. They saw me and said "That's the one." I think about that a lot and how close I came to not being adopted at all. If they had just chosen the baby to the left or right of me, I wouldn't be here right now. Read more>>
Augustus Cole

Hey, G-Rize here; I am a West African Performer. I grew up in Liberia but now live in the USA! Growing up in West Africa, soccer, music, and dance were always a part of my community. From the age of 4- 13, I would love to perform in the choir, at talent shows, sporting events, and parties. Coming to the United States at 13, I stayed focused on soccer while in school until my mom's passing.  Read more>>
MINNIE JACKSON

When I reached retirement age, I retired from my job as a customer service rep. I love to bake, especially pies. My idea was to make small individual size pies. I was reluctant and very nervous about starting a business but after much coaxing from my son and encouragement from my daughter, I went through all the steps I needed to get my business started. I registered my business name with the state, bought insurance and found different size cutters for my different small pies. Read more>>
Narra Moreen

In April 2020, I saw a pile of clothes that were lightly used and didn't fit me anymore. I thought, "What if I could use this fabric to make something new?" I learned how to make scrunchies for myself and started selling them to friends for $1. As demand grew and my sewing skills improved, I opened an Etsy shop and raised my scrunchie prices. This is how my business was born! Over the last two years, I've been lucky enough to connect with numerous small business owners in the Twin Cities and have built a larger platform where I share my various creative endeavors (sewing, crocheting, digital art, and more) as well as talk about my own slow fashion and low waste journey.  Read more>>
Ray Guyton JR.

I grew up in Stockton California as a three sport athlete (football, basketball, baseball) and grew a strong passion for leadership, helping others, competition, and achievement. I played baseball, football, and ran track in college. Because of injuries and an unstable family environment, I bounced around California trying to find my way professionally until I was given the opportunity to attend Augsburg University.  Read more>>
Dee Dee Anderson

I grew up sewing as a child in my mothers sewing area. I would hand stitch her scraps of material onto my barbie dolls. As a teenager, I sewed most of my own clothes. I would study patterns, read the instructions, and try to visualize how the shape of the pattern piece would work. My first paid wedding dress was sewn in my early 20s. I started out professionally doing custom wedding gowns, bridesmaid dresses and rodeo queen outfits. I then used my left over silk scraps from wedding dresses to make antique doll clothes and hats. Read more>>
Michael Monroe

From vinyl to digital, MN Acoustic Music Master (Star Tribune),  Michael Monroe is now in his 6th decade of performing nationally in concert, festival, corporate and educational settings. He has travelled many miles since his first paid performance for an audience of 4000 in Asbury Park, NJ and recording his first demo over 4 decades ago in a "chicken coop" studio owned by Paul Stookey of Peter, Paul and Mary. Read more>>
shugE Mississippi

I first got involved with food rescue & food work in the Twin Cities in the 1990's with a ragtag group of friends operating a chapter of an informal group we called "food not bombs", where we secured donations of surplus food from local co-ops & cooked free community meals in public parks. After a few years of "food not bombs" I got involved with an organization called Sisters' Camelot where we took food rescue & food justice work in the Twin Cities to a more formal model as a tax-exempt 501(c)3 charitable nonprofit. Read more>>
Maggie Judge

I was born and raised in MN. I come from a loving family; close to my brother and blessed to have both parents still with us! I worked hard in school; did all my HW, studied a lot, followed the rules for the most part and in my spare time was a competitive swimmer… age 7 to 18. I started out right out of the gate as an over achiever…. I went to college for Computer Science and Math, graduated college and DOVE head first into an exciting career…. Read more>>
The Team at Project Pinball Charity Group, Inc.

Headquartered in Bonita Springs, Florida, The Project Pinball Charity Group, Inc. is a registered 501(c)(3) Non-Profit organization that places pinball machines in Children's Hospitals, Ronald McDonald Houses, and Assisted Living Facilities to provide recreational relief to patients, family members, and hospital staff. We have been donating the placement of pinball machines since 2011, and have since become a nationwide organization with pinball machines in hospitals across the United States.  Read more>>
Miranda Olson-Okonkwo

I started Crafty Mama Mir in July 2020, after my husband, my 5 month old daughter, and myself all tested positive for Covid. When we were told we had to quarantine for 2 weeks, I thought I was going to lose my mind. So I did what any sane person did, I started online shopping. I quickly found myself in the polymer clay earring corner of Etsy, and I added a pair of earrings to my cart and then thought, "I could just make this myself instead of buying"… Read more>>
Christopher Muras

Where to start. I grew up in a small town in southeast Minnesota, called Winona. I was your normal every day kid playing and trying every sport and running around the neighborhood parks. I grew up with a brother and a sister and my mom was a single working mom. Life wasn't easy growing up. I struggled to fit in, make friends, and connect to other classmates. With my father out of the picture, I stepped into a role of helping my mom take care of my siblings while also helping around the house. Read more>>
Shayla Reaves

I have always enjoyed writing. In 7th grade, my English teacher encouraged me to pick up a pen and paper. Every time my interests gravitated elsewhere, something pulled me back to writing. I started with poetry and expanded from there. My words canvassed pages and school papers. Though I always liked the idea of journals, I failed to successfully fill all the pages in each one. I wanted what entered the journal to look nice, free of scribbles and scratch outs. A hope in frequent conflict with my creativity. Read more>>
Desiree Jenkins

My business partner Giselle and I are originally from California, and have been long term friends. Giselle met my brother in California and moved out to Duluth to follow him. I took a liking to the town after visiting them and decided to move out here as well. Giselle and I talked about opening a Juice Bar, and since we have experience working in them and Duluth was in need of a juice bar/ healthy smoothie shop, we decided to get the dream moving. Read more>>
James Trance

I started designing at the beginning of January 2021. I was only 14 started off making Fortnite thumbnails and banners for twitch streamers, and when I started doing that I took graphic design kinda – somewhat seriously. I didn't take it to that level of serious serious until I started doing sport designs, I decided I wanted to do something differently and since I've loved sports ever since I was a little kid, I wanted to cooperate sports and graphic design all into one. Read more>>
Denice Woller

I have been a professional photographer for over 20 years. As a child my mother suggested I become a photographer because she saw my talent with a camera and thought it would be a good career for when I eventually became a mother- she saw my future long before me! When I was 13 I was actually the youngest student of the New York Institute of photography. But, I became a busy high schooler and never completed my training. Read more>>
Danny O' Brien

Danny has been performing stand-up comedy for over fourteen years, headlining regularly at top comedy clubs and festivals to worldwide audiences. As the resident host and owner of both The Comedy Crunch and The Wild Duck Comedy Club in Dublin as well as Castlebar Comedy Club in the west of Ireland (three of Ireland's most successful comedy clubs) His friendly, high energy and anecdotal style draws in an audience and brings on the big laughs with ease! Read more>>
Jordan Allbritton

I grew up in north Minneapolis. When I was about 3 or 4 I moved out to cottage grove Minnesota. Basically a very suburban part of Minnesota. Growing up out there taught me what it's like to have the finer things in life, Having the security of an environment, and somewhere u can grow comfortably. I then moved back to North Minneapolis when I entered high school. Switching from a suburban area to a highly black populated one had quite an impact on me as well.  Read more>>
Matthew Larson

I got started writing lyrics five years ago, I was 15. I had some tough events happening in my life at the time that sparked some sort of emotion in me that brought me to want to try writing a song. I wrote my first song on a stormy night and After reading it and realizing it's power, I made a commitment to myself that I would write a song every day. I have kept this commitment to this day and have fallen in love with music even more since then. Read more>>
Emily Knudsen

8 years ago I took Bill to see what a pizza farm was all about! Four days prior to this picture I posed the question to him of turning his hobby farm into a pizza farm. We were only dating for 8 months! 10 minutes into our arrival Bill said, "I think I could do this!" I was ecstatic. I was giddy. And I was nervous. Because, again, we had only been dating for a short time and I was living in Red Wing, Mn which was an hour and 20 min away. Read more>>
Joshua Brame

2019 I attended a little show called "Planet Comic Con" in Kansas City, MO. I bought a last minute VIP package for Batman Detective Comics 1000 with Doug Mahnke DC Artist extraordinaire, and there were 2 tickets left. I attended the event and met Jon Jesperson, Art representative for Doug Mahnke and all around great human. Jon and Doug let me hang around and the rest is history. Read more>>
Delanyo Aborchie

My dad being my first major inspiration was a fan of collecting music. He always used to have a lot of cassette tapes, then CDs then he had an ipod when it came out. Mind you, we lived in Ghana at the moment where I was born and raised. He always used to play music on our long road trips and that got me really interested in music. When I got a little older i started to collecting music as well. People would usually reach out to me back then to get some songs for me or ask me to play music for their parties. Read more>>
Saba (Sean) Stewart

My love for writing started when I was a child, watching my Mother write notes, grocery lists, and letters to family and friends. I remember being fascinated by the way she held the pen in her hand, and with each pen stroke effortlessly expressing herself. Looking back this was the earliest memory that I have of witnessing first hand the creative expression of the written word. From that moment, I attempted to reenact each pen stroke with precision until I developed the ability to write my own words to communicate and express myself. I fell in love with the visual aesthetic of language, and the art of storytelling. Read more>>
Rachel Uchizono

My life as an artist began at an early age.  I was writing songs at 6 years old and singing professionally by age thirteen.  I played a set at McCabes Guitar Shop when I was 14 years old.  In the late 1970's and 1980's I was playing the Troubadour once a month with my band and submitting songs to other artists.  The Runaways recorded one of my songs called "I Wanna Run With The Bad Boys" and you can find it on Itunes.  Read more>>
Michaela Boerema

I am Michaela Boerema, a freelance marketer & designer based in Owatonna, Minnesota. I've had over four years of marketing experience, and have placed my main focus on Illustration work, Branding, and Identity projects. I started out as an art student which led to business. In 2016, I picked up a passion project of creating and crafting wood signs for homes, businesses, and more. This led to falling in love with details, meeting new people, and turning my passion into a business. Read more>>
James Small

As someone who loves to travel and remember life events, I always found myself with a camera in hand whether it was a family vacation or a sporting event for our kids. In 2017, my wife and I decided to take an anniversary trip to Kauai, Hawaii. I already owned a "good camera", but didn't really know the "ins and outs" of it. My wife said to me, why don't you take a class at the local arboretum before we go, so you can get some good pictures of our trip. Read more>>
Alicia Horning

The road to Onyx and Sage Studios has been quite the journey. Iv always been a creative person. Iv loved to create art in many different forms. I didn't really get into photography till Tucker (My husband) and I had our first daughter. As someone who doesn't have very many images of myself as a child, I was dedicated to capturing every moment of our daughter. My passion to not miss a single moment evolved into being asked by friends and family to take their photos. Read more>>
Christi Gereau

My career literally started by accident. I was hit by a drunk driver, from behind, while I was walking across the street. For two years I was seeing doctors with not a lot of progress. I went to them and asked if they would provide me with a personal trainer, specifically Pilates personal trainer, but they said, "no it wouldn't work." I don't recommend this but I quit seeing the doctors.  I got certified as a Matt Pilates instructor, Standing Pilates, Pilates in a Chair and personal trainer. Read more>>
Laura Hanson

As far as my upbringing goes, it was average. I was raised by a single mom who worked a lot for what we have and that is where I understand the value of hard work. I was rather shy and awkward as a child, preferred to stay indoors, was not good at playing violin, got average grades and had one or two good friends at various stages in my adolescence. I was always interested in art, and had dabbled in many different mediums from drawing, painting, sculpture, ceramics, jewelry, theater, and many more to name. Read more>>
Anton Zueqsav

Artist, Architect & Creative Coffee lover and minimalist ethusiast. A true believer that everything in life comes with balance and hard work. I have always been in the creative spectrum. Loved legos as a kid, the idea of creating something out of nothing and look back in awe of what didn't exist moments before. Studied architecture where I got to test my creative and technical skills. Learned about design theory and the correlation embroiled within art and architecture. Read more>>
Peter Strid

Peter Strid is a formally trained artist with a BA in Studio Art and Minor Art History from Colgate University. Peter grew up in an environment that embraced the value of fine art. At an early age Peter would spend time alongside his grandmother, who was an accomplished oil painter watching her creative process unfold. When asked "where do you get it?" Peter's response would be: Read more>>
Tina "DJ TNA" Ayodele

Most people know me as Tina and more recently DJ TNA since I've been djing more around the Twin Cities. This is honestly a tough question but I think a lot of small accomplishments and experiences have brought me to where I am today. I've always been a musical person and interested in different styles and genres which I can attribute to my parents' eclectic taste in music. Both of my parents were born in Nigeria but my siblings and I all grew up in Texas. Read more>>
Dylan Swanson

I have been a licensed Esthetician for a little over 4 years now. I have always loved makeup, that is where my passion for skin began. Your makeup will only be as good as the skin beneath it. I love how confident my clients would leave after getting their makeup done for an event, so why stop there? I decided to go to school to really get a good understanding of our skin and its functions.  Read more>>
Ted & Alice Miller

It's tough for us to narrow this down to a story about us as a duo because Ted's been playing music and writing songs since for quite some time. We started playing music together as a duo in 2012 after Ted made the commitment to record a full length studio album. It's a bit of a funny story because the album was something that he really wanted to accomplish, however the vision was just to capture this group of songs in a professional manner. Read more>>
Anne Spaeth

Anne is a self-described "horrible cook" and a North Dakota native whose early food influences included pizza, fast food, and TV dinners. An unlikely candidate for the restaurant world, she fell in love with the power of food, culture and community
gathering around long tables while residing in London and traveling abroad. After returning to Minnesota and becoming a busy mom of three young boys, she yearned to replicate the relationships she experienced in London and to also provide artisan
pastries, breads and meal options for other busy families, professionals, and emptynesters in the comfortable, welcoming environment at The Lynhall. Read more>>
Jess Lourey

I received four hundred and twenty three rejections before I signed my first book contract. Not very good odds, but I'm running with them. It started when I was six. I wrote this Minnesota haiku for my awesome grandpa: Grandpas are full of love Grandpas are full of tickles But grandpas are especially full of pickles. People loved it. Aunts hugged me, cousins were jealous, uncles asked me to immortalize them next. My poetry skills have not evolved since that day, but the enchantment with words and their power grew inside me like a watermelon seed. Read more>>