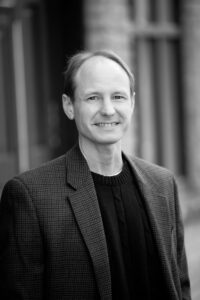 Today we'd like to introduce you to Eric Christopher.
Hi Eric, thanks for sharing your story with us. To start, maybe you can tell our readers some of your backstory.
A beginning point came to me when I was backpacking in India as a 24-year-old. I decided to work at the Mother Theresa's Home for the Destitute and Dying in Calcutta (now Kolkata). I was told to sit with a man laying on a cot who was dying. He began talking to me in his local dialect of Bengali and he held out his arms, so I grabbed them. We looked at each other in the eyes, and then he died in my arms. His body then began to become stiff and cold, and I deeply knew that who and what I was just talking to was not that body, which we later threw on a burning pyre.
For years after that experience, my mind kept turning over the thought that we are more than our bodies, we are actually the light, energy and consciousness that is animating our body. One part of us dies and the other, more permanent part of us, is eternal, indestructible, and outside of time and space. I reasoned that if we can't escape this eternal part of us, we should be able to tune into what we already are…but how?
I then came across a book by Dr. Michael Newton called "Journey of Souls". He was a psychologist who used deep hypnotherapy to do exactly that…help a person connect to their eternal self which was not based in fears, but in love and a higher understanding of life. When I read that book, I finally knew that that type of work was what I wanted to do with my life, and my career passion came into focus. I vowed to get training with Dr. Newton before he retired, and fortunately, I was able to do so. That began a decade of traveling to fascinating trainings and workshops to learn past life regression, life-between-lives spiritual hypnotherapy, and effective ways of healing present life traumas from the vantage point of the soul. For the past 20 years, I've had a therapy practice of helping people connect in a deep way to their soul self, and in doing so, they gain insights, clarity and healing on all levels…physically, mentally and emotionally.
We all face challenges, but looking back would you describe it as a relatively smooth road?
The road has been fairly smooth. Along the way, I began a personal journey to awaken to and more consciously live from my eternal, spiritual self that is based in love. That process has felt like two steps forward, a step back, and two steps forward again…but I realized that is common on any journey of growth and evolution. Death and loss are obviously sad, but they also can become a means of propelling forward on a spiritual journey for many people.
Thanks for sharing that. So, maybe next you can tell us a bit more about your work?
My background is in Marriage and Family Therapy, but I specialize in past life regression and present-life healing work using hypnotherapy. I help people become aware of, release and heal limiting thoughts and beliefs that do not serve them on their life's journey, and replace negative thoughts and beliefs with those that do benefit and serve them, and that are based in a more permanent truth from the vantage point of the soul.
I think what sets me apart from other therapists is a deep knowing that who any individual really is, is far greater than any fear, trauma, or limiting belief that they may be holding, and that their freedom is a perception shift away. I often quote Albert Einstein when he said that sometimes we can't solve a problem at the level of consciousness that created the problem, but at a higher level we can. That is the basis of my work, life and passion in helping others in my practice…to help a person experientially connect, in each session, to their own higher, eternal self that can see through limiting beliefs and help unhook traumas that are stuck in the body/mind aspect of themselves. In short, it's a hypnotherapy practice that helps a person spiritually awaken.
What sort of changes are you expecting over the next 5-10 years?
I see the consciousness of the planet rising. More and more people are becoming aware that they are actually spiritual beings having a human experience. As people begin to hold this truth in their minds, life tends to become a much smoother ride, no matter what obstacles lie in their way. Right now, there's enough evidence of reincarnation that even a logical minded skeptic can believe in reincarnation just on the sheer evidence of it. And evidence of reincarnation is evidence that our true nature is eternal and indestructible, and that we are here for a purpose.
My practice is beginning to get booked out rather far, and I'm noticing more and more people inquiring about where to get training to do the type of work that I'm involved in.
Pricing:
A first-time hypnotherapy session lasts close to three hours and I currently charge $280.
Contact Info:
Image Credits
Amy Ellwanger
Suggest a Story: VoyageMinnesota is built on recommendations from the community; it's how we uncover hidden gems, so if you or someone you know deserves recognition please let us know here.