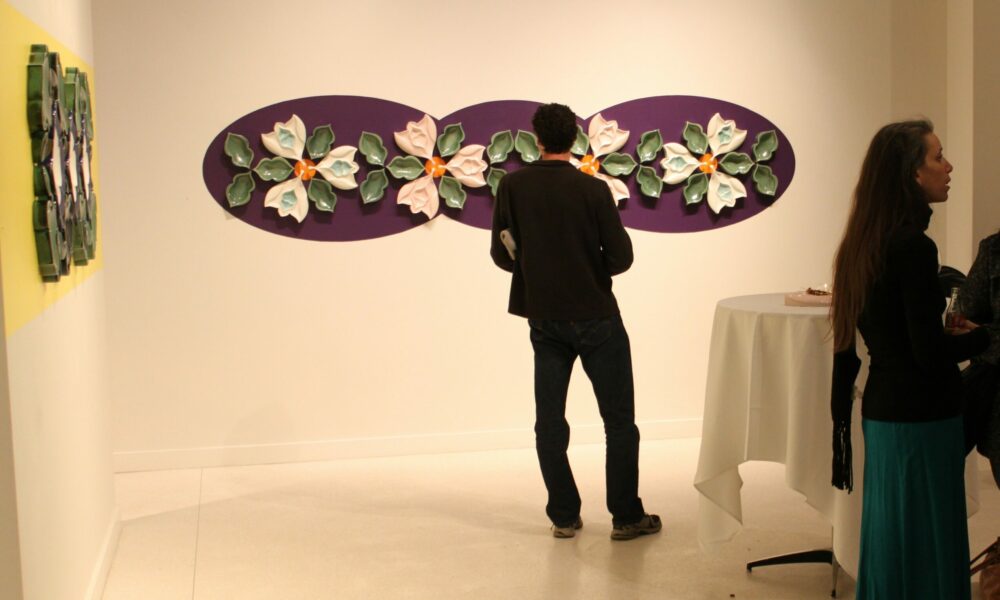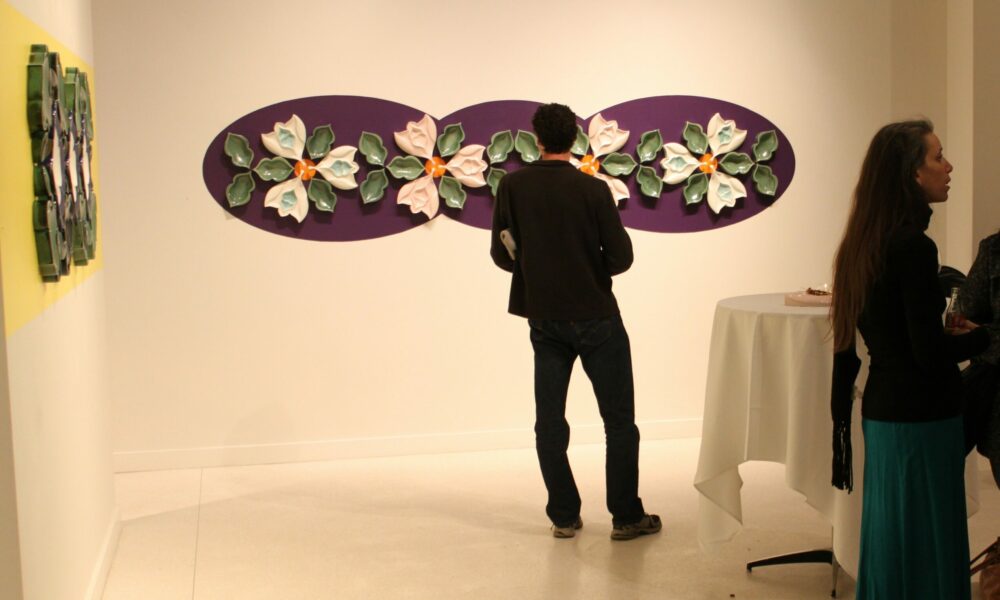 Today we'd like to introduce you to Kimberlee Roth.
Hi Kimberlee, can you start by introducing yourself? We'd love to learn more about how you got to where you are today?
I graduated from the University of Minnesota – Twin Cities with an M.F.A. in Ceramics and an Art History minor in 2007. My undergraduate degree is in Physics and Mathematics. I taught physics for 10 years. While I was teaching physics at the University of Alaska Anchorage, I decided to enroll in an advanced photography class. I had taken numerous photography classes as an undergrad but the photo professor would not allow me into an advanced photo class without seeing my portfolio, which was in Chicago. This was in 1999, before digital, so there was nothing to show her and I did not want to repeat an intro photo course. Instead, I took a beginning wheel throwing class. I fell in love with the material, the history of ceramics was the history of humanity and cooking, I really enjoy cooking and baking, and the community of production potters in Anchorage and the students at UAA were wonderful.
After two and a half years of taking ceramic courses at UAA, I spent two years as a special student, one year at Louisiana State University and another at the University of Nebraska – Lincoln, before starting my M.F.A. in Minnesota.
Right after Graduating with my M.F.A., I enrolled in "A Faith in The City" initiative, sponsored by Lutheran Social Services of MN, Thrivent Financial For Lutherans, The McKnight Foundation and the U.S. Office of Community Services. It was a matching grant program that taught participants how to write a business plan, how to keep business records, file taxes, and awarded participants a grant of $4,000 after they saved $1,000. I was able to purchase what I needed to set up a small studio in the Grainbelt Warehouse building in Northeast Minneapolis.
In 2009 I moved to the Northrup King Building with two studio mates. It is there that I still create my ceramics. In 2010, two forms I created for my M.F.A. thesis exhibition were reconfigured and made in large quantities for a wall installation shown at The Weisman Art Museum. That installation was used to apply for and receive a State Arts Board Artist Initiative grant in 2011. Everything kept building from there. I was offered a solo show at a local gallery in 2012 and I used the work from that show to apply for a 2013 McKnight Fellowship in Ceramics.
The next big idea came in the summer of 2019 when I took part in the Women's Art Institute. There I began screen printing on wood panels and adding ceramic pieces on top of the designs. I am looking forward to continuing this method of creating the background designs for ceramic compositions.
Before the Covid Pandemic, I had either a group or solo show once a year, was making work for private collections and sold work from my studio. I am very grateful that I have a steady job at the University of Minnesota that kept me solvent throughout the pandemic. I am so thankful that the vaccinations are working and am looking forward to my next group show this fall at St. Catherine University. Hopefully, the next 15 years are as fun and exciting as the last.
Would you say it's been a smooth road, and if not what are some of the biggest challenges you've faced along the way?
There were struggles. The first few years after graduate school I was making $20,000 working a part time job. Every day I ate the same thing, oatmeal for breakfast, a baked potato for lunch, and pasta for dinner. I told myself when I applied for the Artist Initiative grant in 2011, that if I did not get it, I would need to give up the studio. It is hard to change careers and finish school at 39. But I am very happy with my decision to focus on art, but of course, I still wonder, "what if I stayed with physics?"
As you know, we're big fans of you and your work. For our readers who might not be as familiar what can you tell them about what you do?
I am known for large wall installations that are created by arranging large quantities of ceramic forms in symmetrical, repetitive patterns that subtly allude to Islamic tiled façades. I strive to create individual ceramic forms that communicate an underlying sensuality and compositions with striking color relationships.
We'd be interested to hear your thoughts on luck and what role, if any, you feel it's played for you?
Creating something from one's imagination and being able to get it out into the world for others to enjoy is a combination of hard work, knowing how to write and talk about your work, and a little bit of luck that whoever you meet and see your work actually likes what you are creating. If you find others who are willing to buy and show your work, then each consecutive sale and show allows you to be able to continue to do what you love. And I feel lucky that I have found those folks in Minnesota.
Contact Info: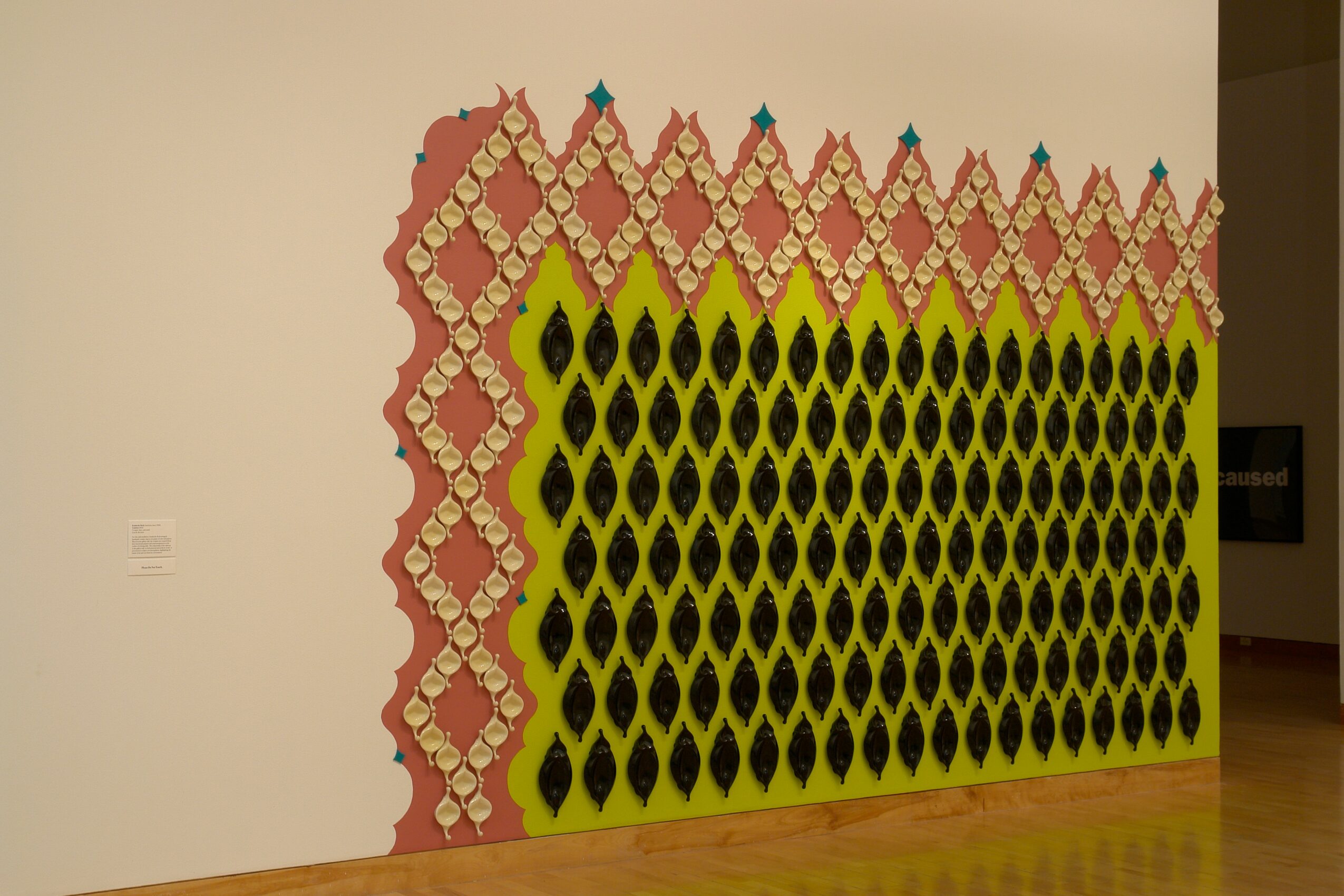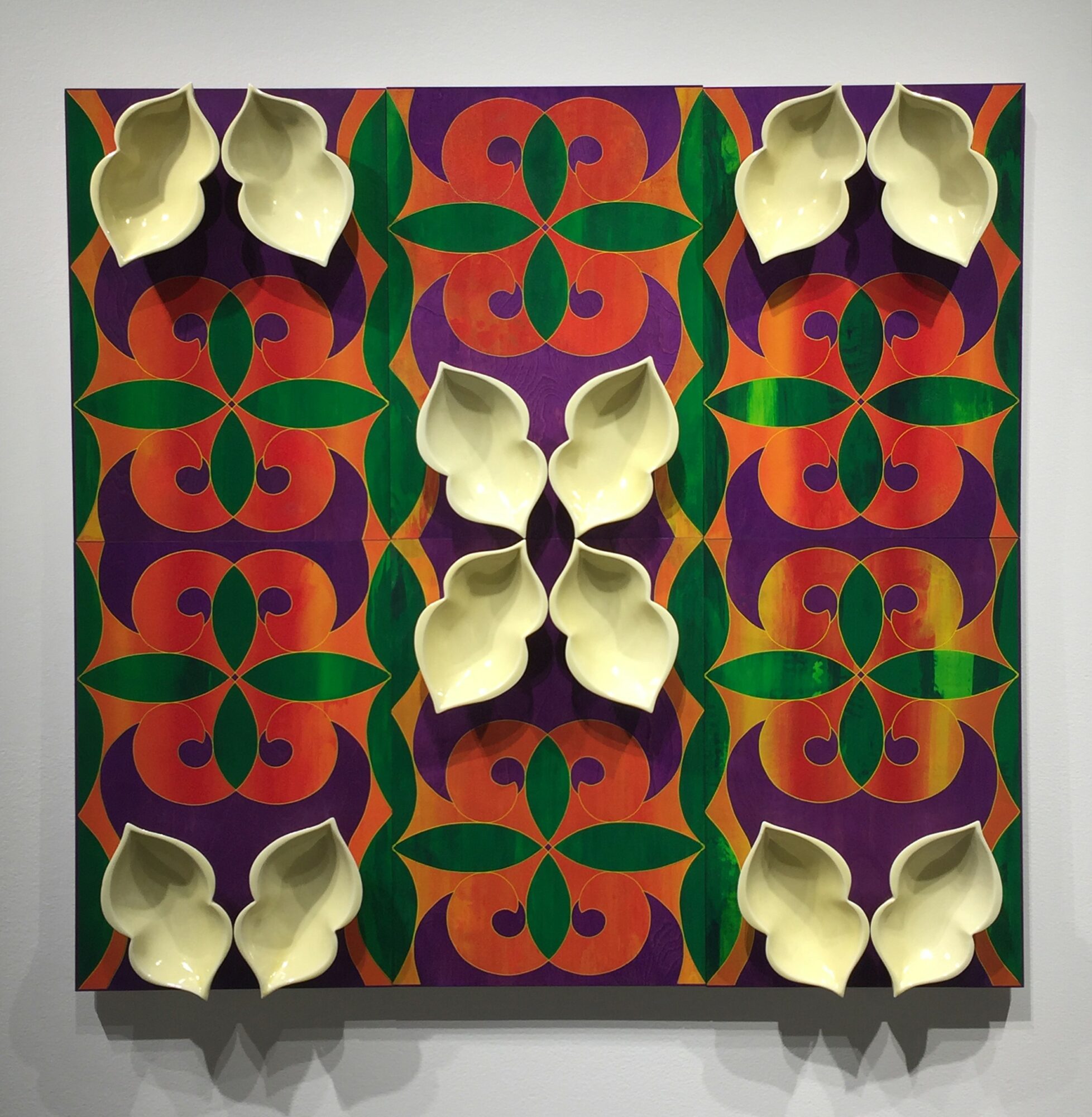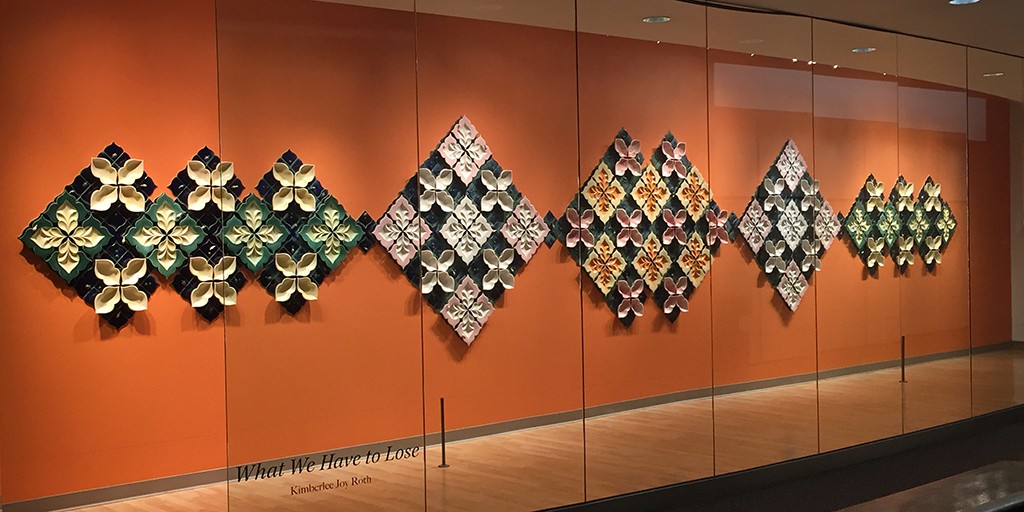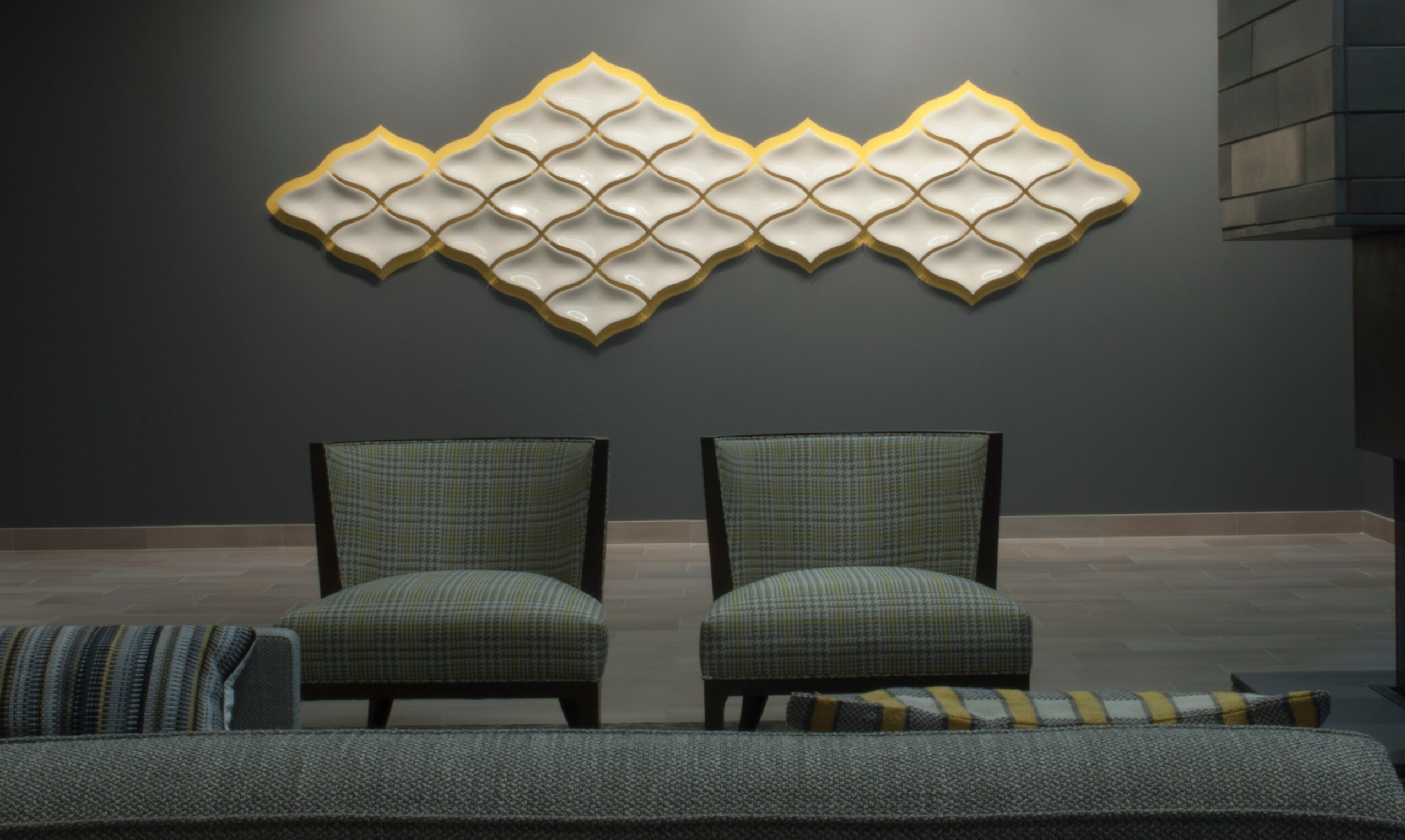 Image Credits
Mary Roettger
Petronella Ytsma
Kimberlee Joy Roth
Roth_White_Net_44
White Net, 2015, (71 France Apartments, Edina, MN)
53"h x 152"l x 1.75"d
each form: 11.5" w x 17.5"l x 1.75"d
Photo credit: Kimberlee Joy Roth
Roettger_IMG_7451:
Elizabetha, 2012 (Bouquet, Burnet Gallery, Le Chambers Meridian Hotel, Minneapolis, MN, November 16, 2012–January 5, 2013) This image was taken at the opening reception and I am standing on the right.
28" x 129" x 1 ¾"
Petal Plates: 10 ½" x 8 ¾" x 1 ¾"
Leaf Plates: 8 3/8" x 5" x 1 5/8"
slip cast porcelain, ∆9, electric oxidation
Photo credit: Mary Roettger
Ytsma_roth 810 088
Untitled, 2010, (Ordinarily Here, Frederick R. Weisman Art Museum, Minneapolis, MN, June 19–October 10, 2010)
10' x 15'4" x 1 ¾":
Each black plate: 12 ¾" x 6" x 1 ¾"
Each yellow plate: 7 ¾" x 4 " x 1¾"
Slip cast porcelain, ∆9, electric oxidation
Photo credit: Petronella Ytsma
Roth_Butterfly
Butterfly Wings of Innocence, 2019 (Keller Building, Minneapolis, MN)
40 x 42 x 1¾"
porcelain, N42 neodymium magnets, on 4 color screen printed ¾" birch panel
Photo credit: Kimberlee Joy Roth
Ytsma_rothk5
What We Have to Lose, Christensen Center Art Gallery, Augsburg College,
Minneapolis, MN, August 29–October 27, 2016
33' x 64.5' x 2"
small bowl form: 8.5" x 5" x 1.75" medium floral form: 8″ x 8″ x 1.25″ largest tile: 9" x 9"
Slip cast porcelain, Δ9, electric oxidation
Photo credit: Petronella Ytsma
Suggest a Story:
 VoyageMinnesota is built on recommendations from the community; it's how we uncover hidden gems, so if you or someone you know deserves recognition please let us know 
here.