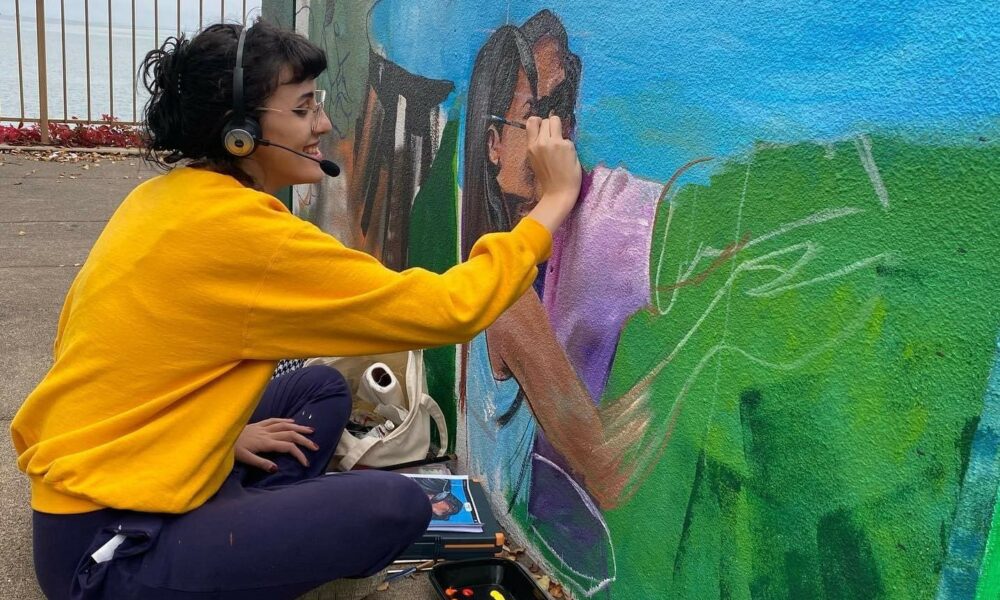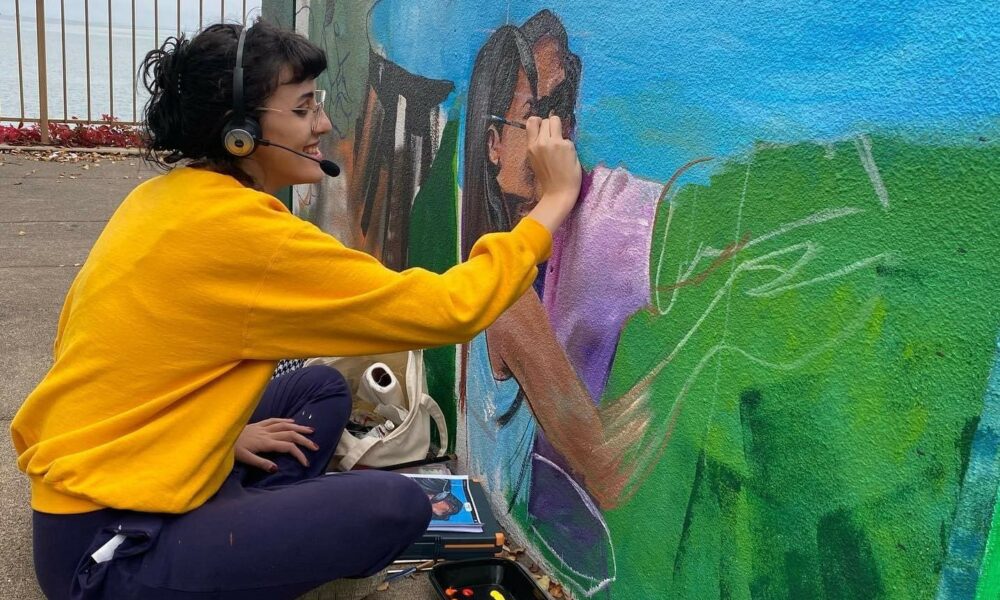 Today we'd like to introduce you to Moira Villiard.
Hi Moira, so excited to have you on the platform. So before we get into questions about your work-life, maybe you can bring our readers up to speed on your story and how you got to where you are today?
I grew up on the Fond du Lac Reservation in Cloquet, MN, a non-enrolled kid born from two enrolled parents, and moved to Duluth sometime in my early 20's. My childhood was marked mostly by isolation in many different forms, which I won't get into too deeply. I will say that isolation socially, economically, and geographically led to my attachment to the arts; I spent a lot of time in high school drawing during class and when I graduated, I really didn't have much of a future ahead of me at the time. I'd made no plans to go to college because it seemed like one semester of college would cost an entire year of my family's income, so there didn't seem to be any way for me to go.
Instead of immediately continuing my education, I spent months in my room drawing portraits, referencing vintage National Geographic magazines that I'd pulled from a school dumpster with my friends. I went from drawing abstract and surreal doodles to working on my technical ability, and I fell in love with drawing faces and I got involved in online arts communities like DeviantArt and MN Artists. I connected with a lot of artists via social media at the time and it inspired me to, in some way, compete and collaborate more with other artists.
However, as an extrovert I felt extremely depressed drawing at home all time, I had no driver's license, no job, etc. I decided to see what college would actually cost for me and was accepted into Fond du Lac Tribal & Community College, with a Pell Grant and scholarships that, to my surprise, covered the entire cost of my tuition. College eventually became one of several major turning points in my life and career. Besides the number of amazing campus jobs I got hired for (including in the Marketing department, where I learned graphic design on the clock, and as a Student Ambassador, where I learned to coordinate events), I also made amazing and fateful connections. Life was intentional accidents from that point on.
In the back of Biology class one day there was another artist who was drawing, just like me, all over his notes. I don't think we really talked much until we ended up getting a campus job together and recognized each other as the two artists who spent most of our time doodling in class. His name was Rocky Makes Room For Them, and he asked me one day if I had enough art to do a show with him in Duluth at this gallery that just opened up.
By then I'd gotten in the habit of saying yes to everything, even if I wasn't sure it was the right answer. I agreed and Rocky gave me the number for the executive director of the American Indian Community Housing Organization (AICHO), which had just launched an arts program to bring Native artwork into their new community center and apartment complex. A few days before the exhibit opening, I dropped off every piece of art I'd created at home, a mix of doodles, portraits, and paintings, totaling over 50 individual pieces, all unframed. In my mind, Duluth was the big city, I'd finally had my big break, and having no experience working with galleries, I thought it was the gallery's role to frame all my work for me.
I was wrong. However, AICHO identified a lot of needs with emerging Native artists in particular at that time, and decided to cover the cost of framing my work. The rest is sort of history, because it was having that body of framed work that allowed me to exhibit in other spaces around Duluth. The opening allowed me so many different connections, and I was really hooked on the idea that my art could be used to connect with people!
I made a goal at that time (I was around 18 years old) to do something arts related publicly every month for the rest of my life, and I've kept to that goal ever since. I went on to do more elaborate portrait paintings, exhibit in over 150 different events and spaces, and transitioned into what I do today, which is a little bit of everything. I eventually would land a job at AICHO after graduation with my Bachelor's in Communicating Arts (Global Studies Minor) in 2016 – I became the Arts & Cultural Program coordinator and became even more involved in the arts scene and helping artists who were starting out like I did. I started serving on boards like the Arrowhead Regional Arts Council to learn about funding my artwork and the artwork of others, and here I am today working full time as a visual artist and community organizer. I still am connected with both AICHO and ARAC in various capacities, too.
Today I create public art, do consulting, am learning animation for large-scale projections, and create exhibits that address a wide range of contemporary social issues. I create community-engaged arts experiences and curate different arts related events, teach in classrooms, etc. It's been an amazing journey for me because I really did start with almost nothing – literally it all started with a lucky dumpster dive!
Would you say it's been a smooth road, and if not what are some of the biggest challenges you've faced along the way?
I think some of the biggest obstacles early on were predatory artists – I didn't realize at the time but I went through a lot of grooming and confusing experiences with male artists in particular who were older and more experienced. It's frustrating to look back on, but today I'm a huge advocate for protecting young and emerging artists and being truthful about the realities that sometimes come with entering the art world. It's an emotionally charged place with a lot of different characters; some artists create from a place of pain and that can bleed out into how they treat others, and some create from a place of healing and it does very much the same.
This challenge in particular stands out to me because of how vulnerable I was, as a low-income female teenager seeking ways to connect with the world through my work. I didn't know much about how anything worked and I didn't have many role models, I simply had a talent for creating art and a curiosity about the world around me.
Other struggles included people's attitude towards young people generally – I think boards and panels who issue funding today are a little more aware of how to value the work of young and emerging artists, but a decade or so ago it was rough. I would get questioned about why I didn't go to school for art or I would be asked to work for really low wages. Today I work really hard as an advocate for young people and for expanding your horizons beyond just studying the arts when you're an artist.
Thanks – so what else should our readers know about your work and what you're currently focused on?
Through public art collaborations and experimental art exhibitions across Minnesota, I work full-time as a multidisciplinary community-engaged artist, using public art to elevate Indigenous narratives, explore the nuance/relevance of society's historical community intersections, and promote community healing spaces. My background is in painting; having traversed a lot of different mediums over the years, I most recently came to the realization that my core mediums are people and space – I create exhibits, murals, installations, and experiences with and for other people. With the exception of some work that's part of my solo painting career, my work is generally collaborative in some way, whether that's through the actual brainstorming process behind specific work or through the actual creation/implementation of artwork in a space. Thematically, my work explores matters of social justice, language, and representation, and it does so by encouraging viewers to reflect on their own relationships to these topics through art as a safe space for contemplation.
Currently, I'm in the process of finishing the Chief Buffalo Memorial murals, a project I launched as a pilot alongside elders in the Buffalo family and dozens of my community members as partners. It rapidly grew into a full scale memorial. However, the murals are only one physical output of the work we've done in that space – it's the process and the community relationships built in the meantime that make up the lasting methods we use in reclaiming Indigenous space.
My work as a muralist is more than just painting walls, it's about rekindling life and visibility for my community. That's the heart of my work.
Earlier last year my collaborative work manifested in a new, moving medium – I created my first animated collaborative film, Madweyaashkaa: Waves Can Be Heard. It premiered at a scale of 150' wide for Illuminate the Lock in the heart of Minneapolis. Madweyaashkaa opened the doors for me to explore animated public art and is currently touring. I'm currently working on more films that address issues ranging from residential school stories to additional teachings by local elders.
Additionally, I do freelance work as a graphic designer for a wide range of organizations, and I have several exhibits including "Rights of the Child" and my upcoming exhibit "Waiting for Beds" that travel from space to space. Each features additional community engaged programming.
Is there anyone you'd like to thank or give credit to?
I have a group of friends from college – we collectively call ourselves Soup Fam, a group of friends from all over the world who happened to meet in Superior, Wisconsin in college and become a sort of chosen family for each other. With the exception of my husband Sylvester, we're all artists (Deb Yam and Yuta Uchida, who you can find on Instagram, and Tania Murillo Duran).
My friends from high school as well are still embedded in different areas of my life; two of my original high school friends (Heather Olson and Aurora Webster) have started working with me as assistants on mural projects around town (and also referrals for work I can't take).
After college, friends I made through a local show called Goody Night also have stayed in my life and as supporters and collaborators.
Artist wise, I was fortunate to be immersed in a movement of Indigenous artistry during my time at AICHO, and so I made a wide range of connections there that involve lifelong inspiration. There are too many artists to name but I'm grateful for everyone I got to work with and stay connected with from that space.
Otherwise, anyone who bought me lunch when I was hungry or surprised me with support during those early years for me – it was a struggle! And there were so many people who put their faith in what I could do even then.
Contact Info: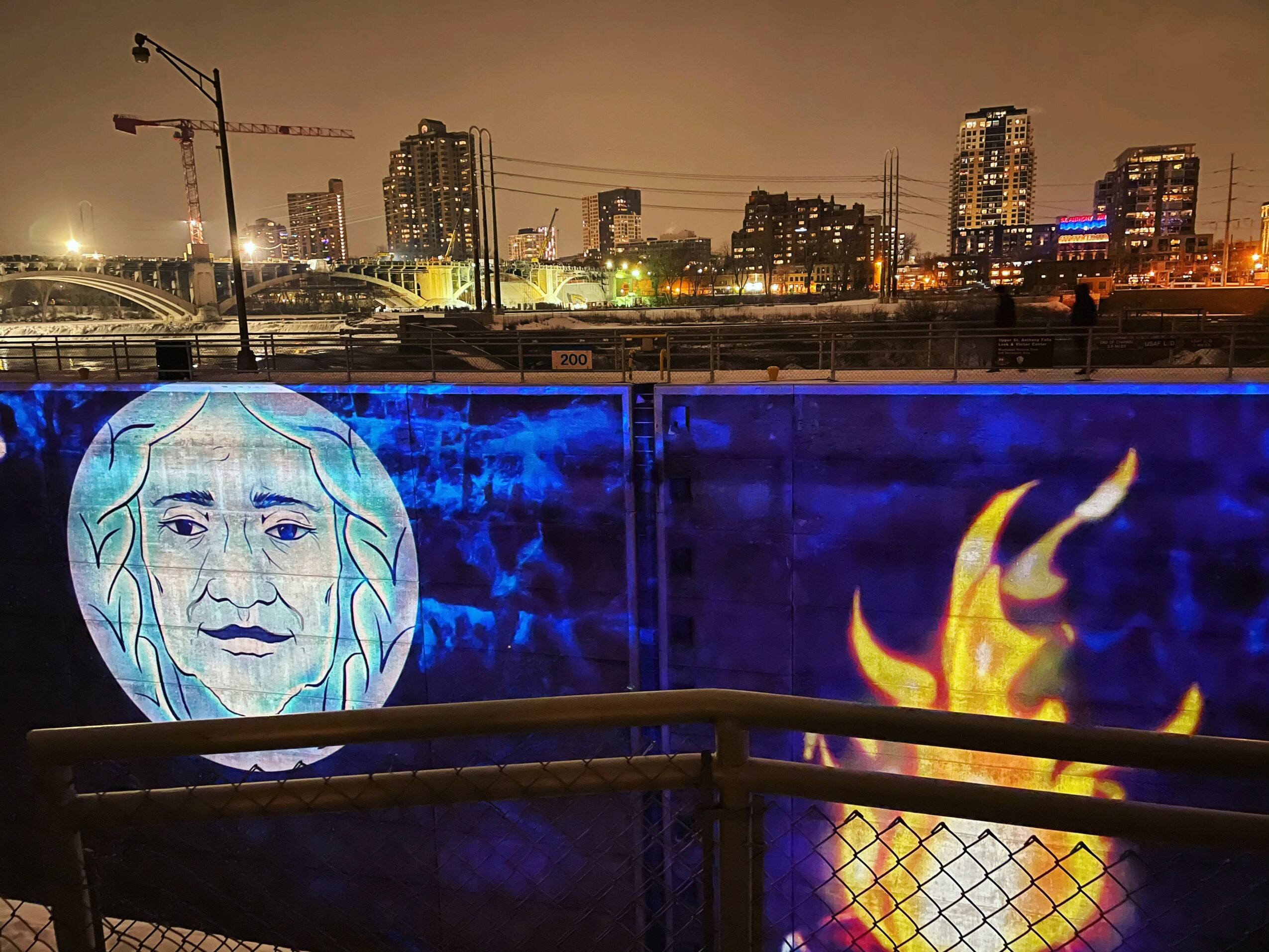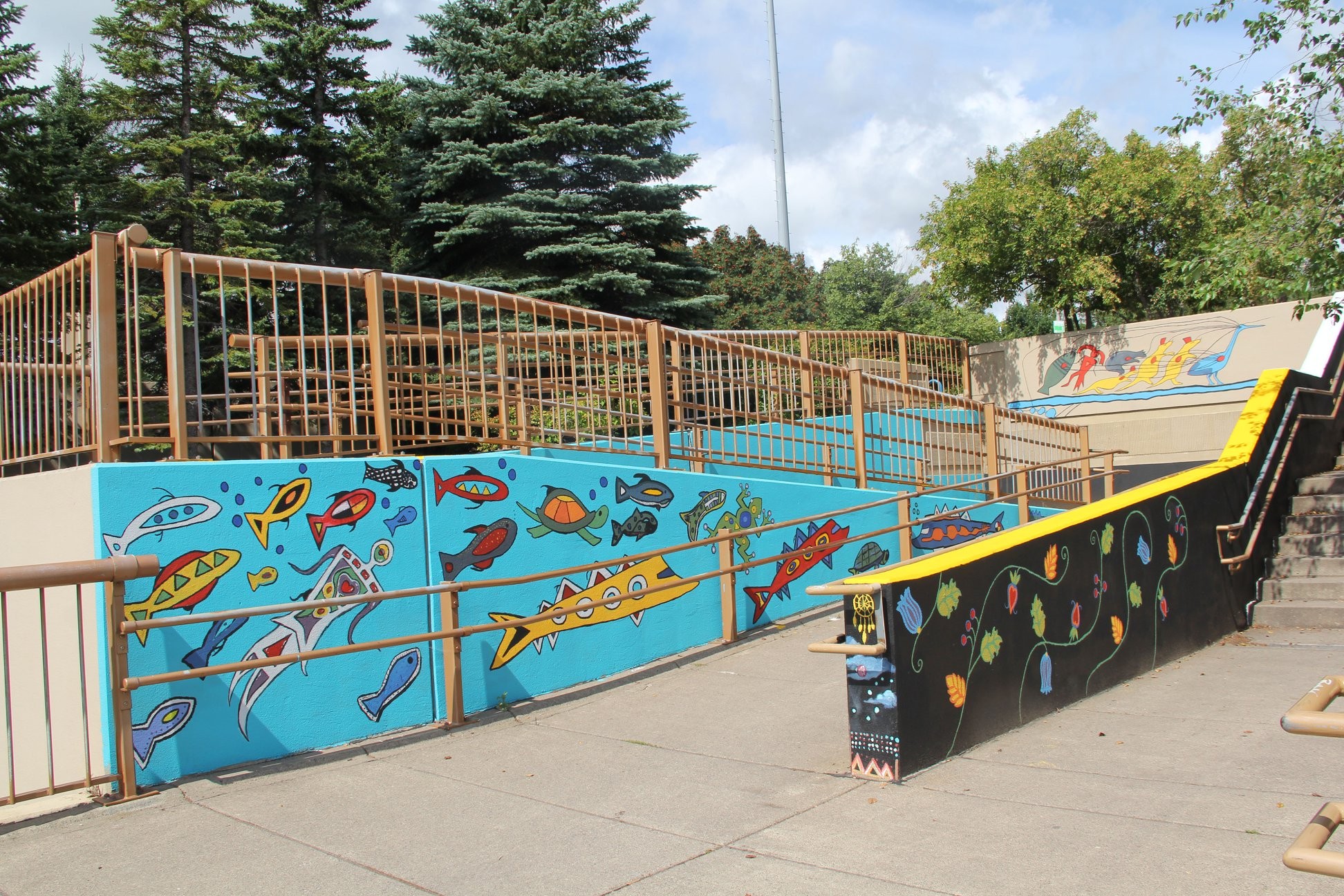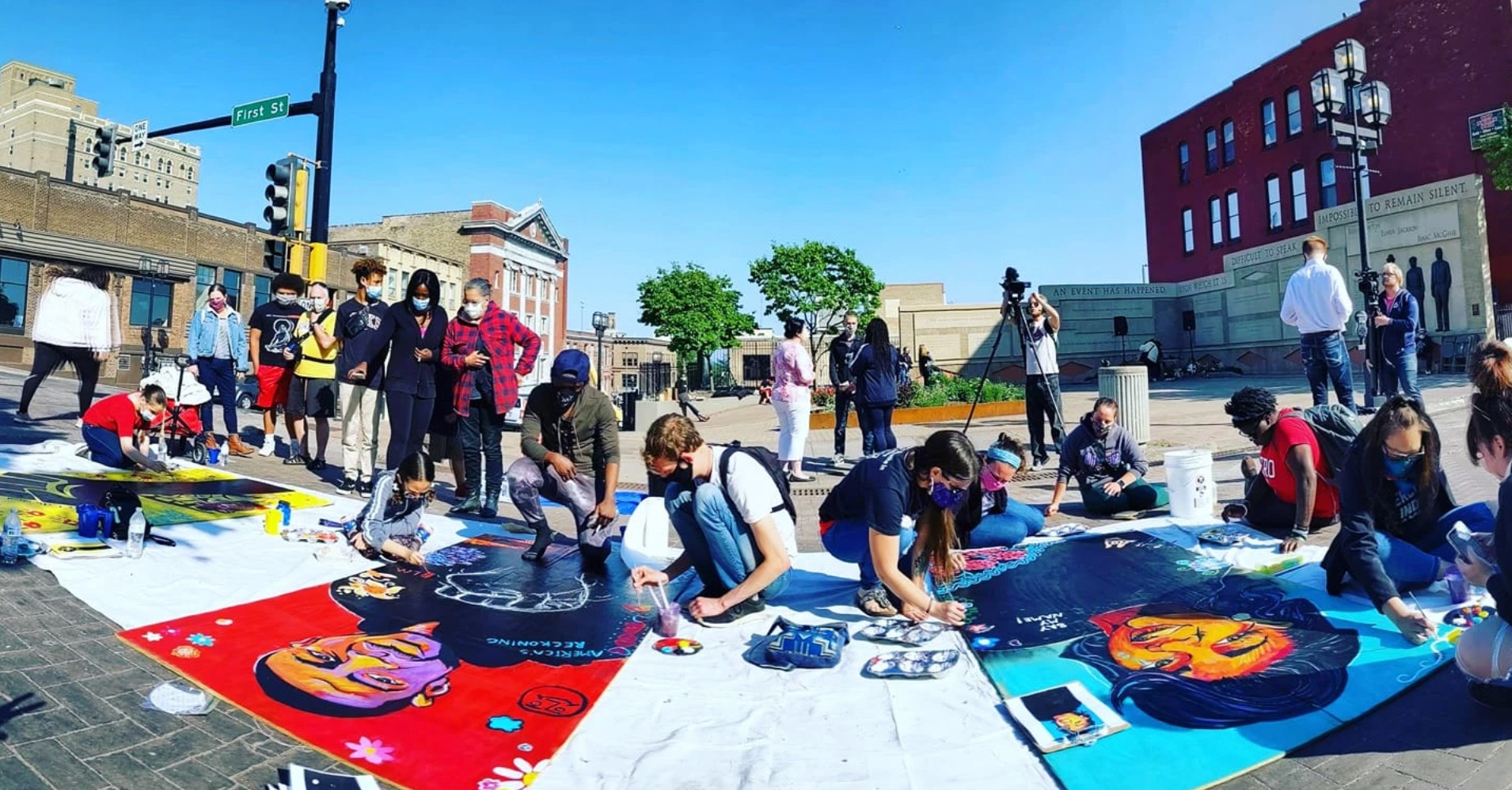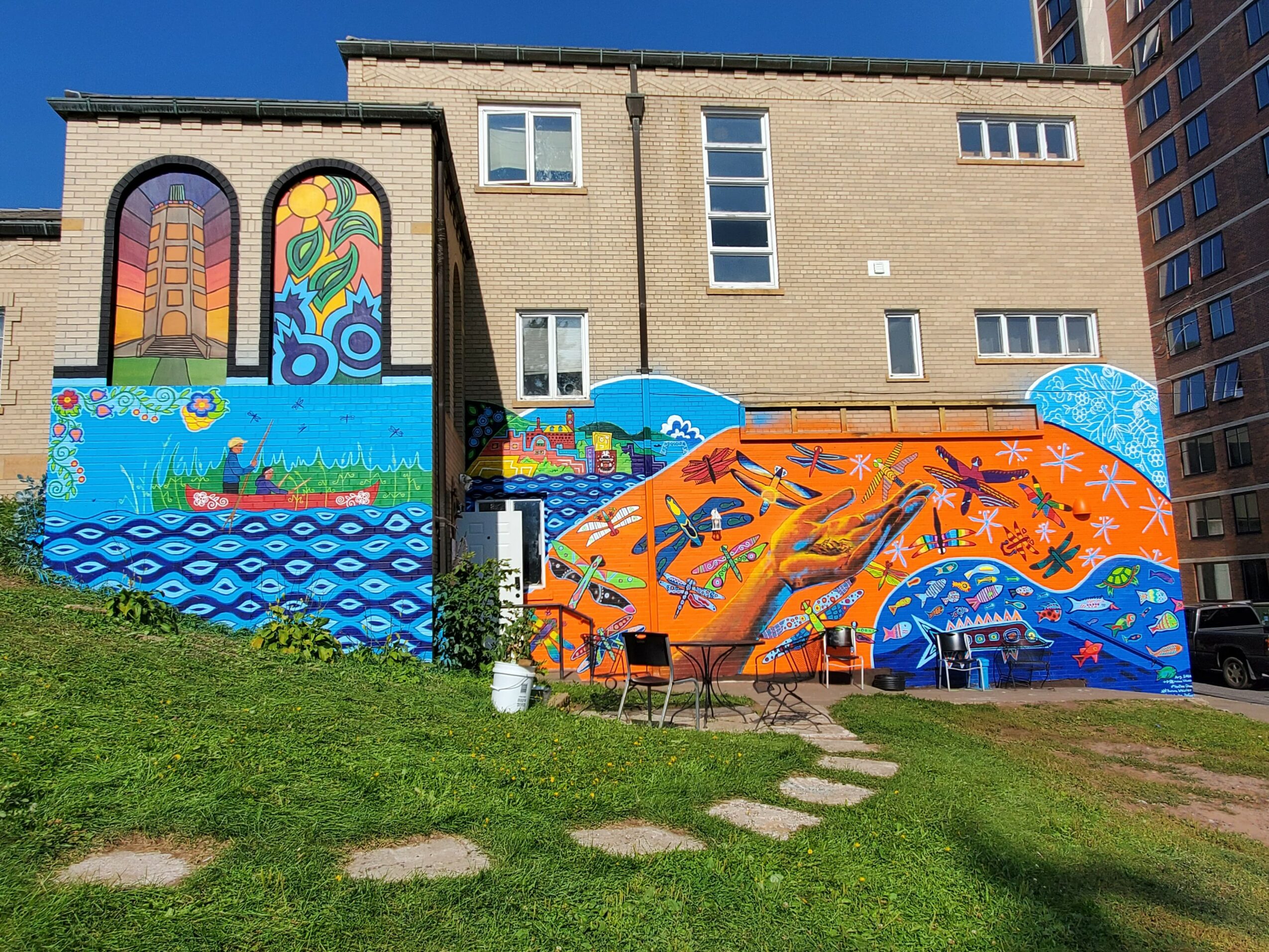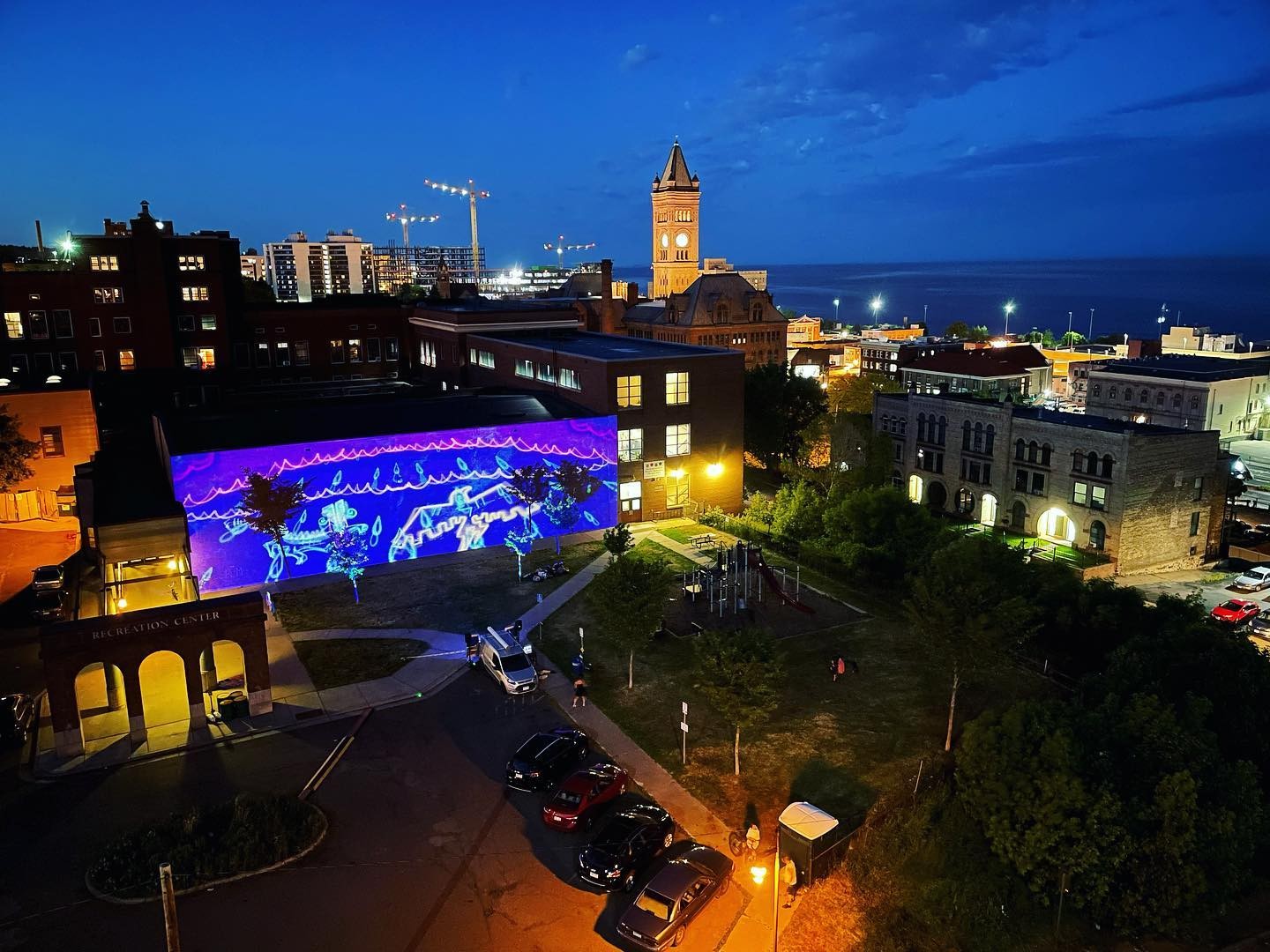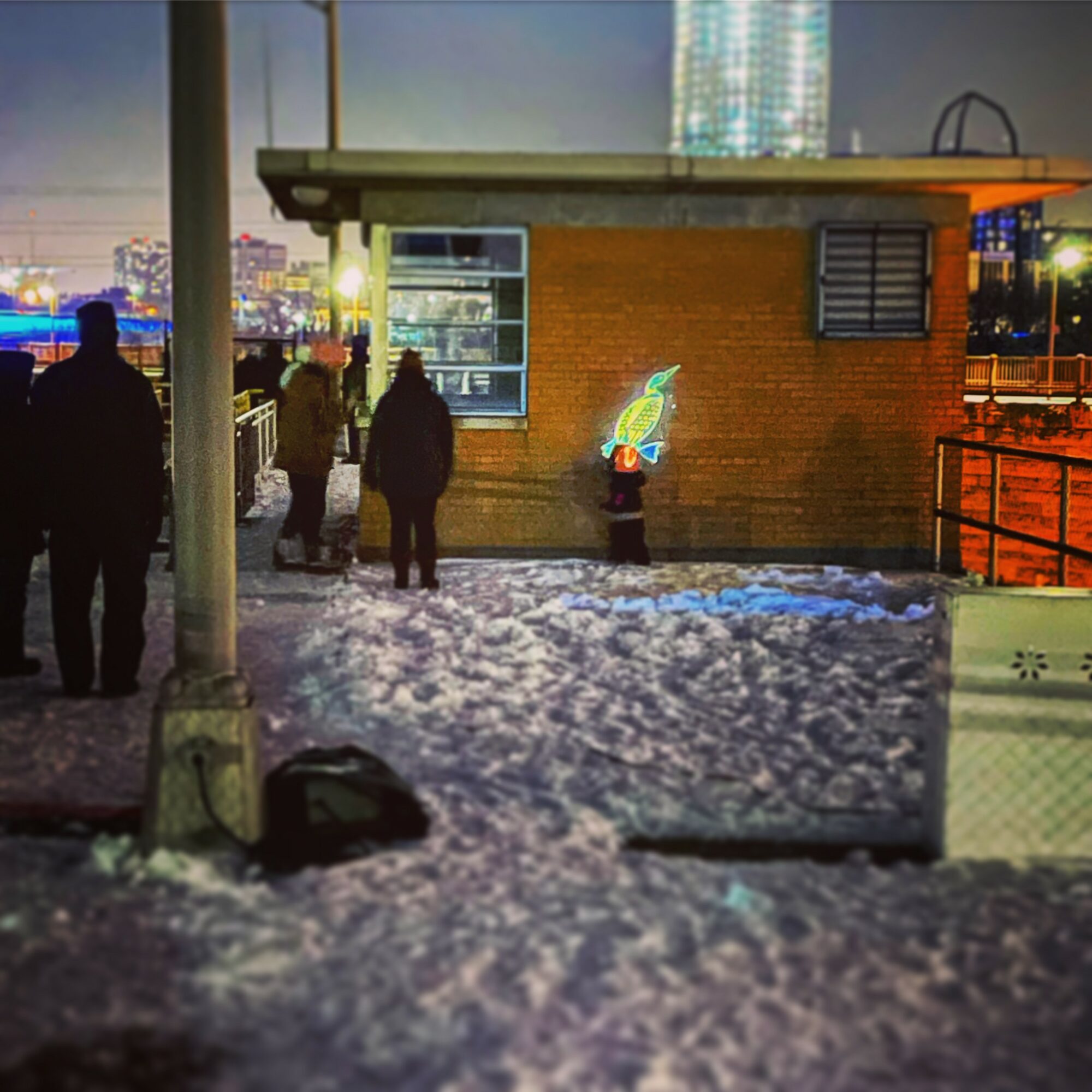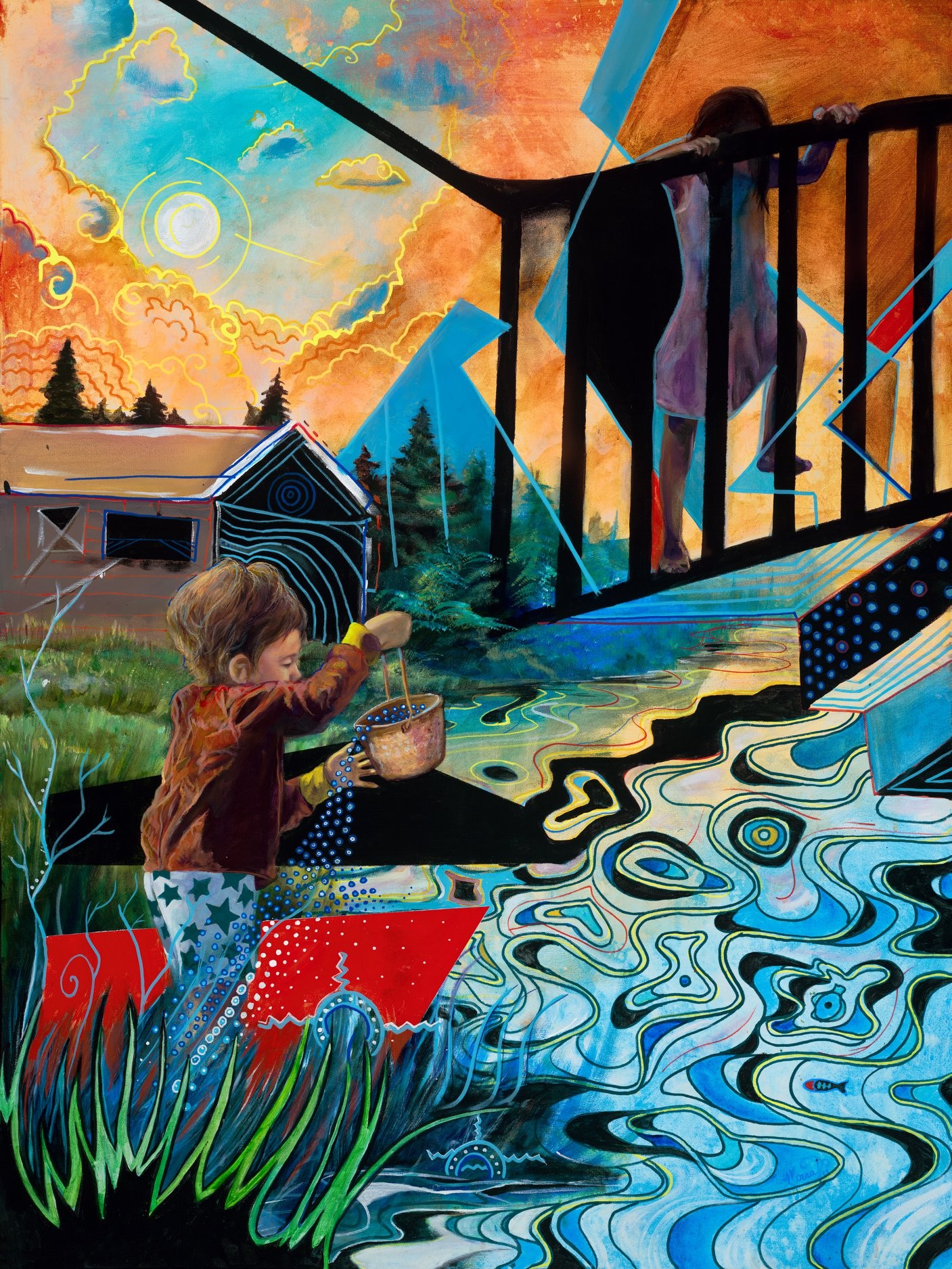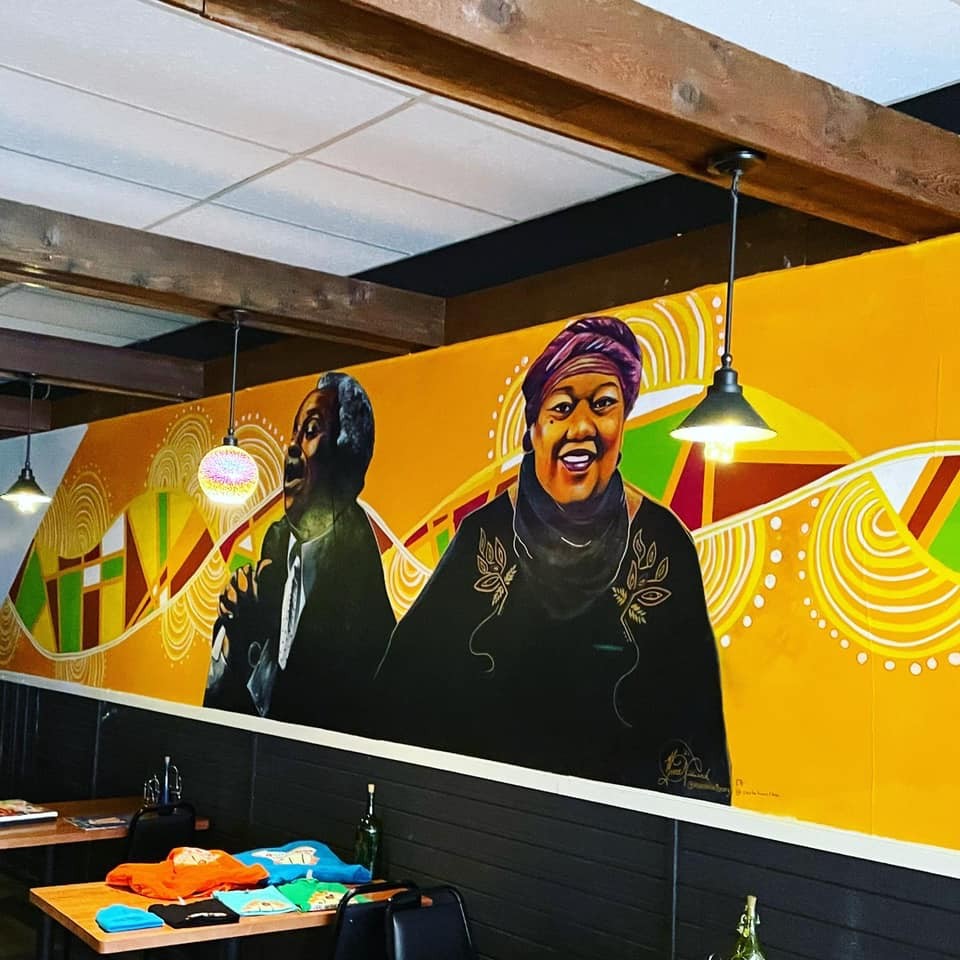 Image Credits
Karen Sunderman
Suggest a Story:
 VoyageMinnesota is built on recommendations from the community; it's how we uncover hidden gems, so if you or someone you know deserves recognition please let us know 
here.